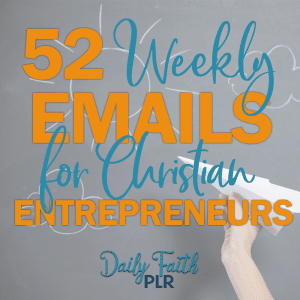 Introducing Private Label Rights to 52 Weekly Notes for Christian Entrepreneurs.
Use these emails to stay in touch with your community. These can be a great stand alone nurture or be used to kick start a weekly newsletter.
With full rights to edit as you wish, you can be as creative as you like!
This content package is a perfect pairing to our 52 Inspirational Social Graphics for Christian Entrepreneurs Package.
Are you unfamiliar with PLR? Learn more here.
7,534 Total Word Count – Emails (Editable Word Document)
Example Email:
Subject: Take a Second Glance
Hey [Name]
It's tempting to jump into new situations (especially if they're exciting!) with both feet. You say "yes" to that interview, publishing contract, or new business venture without taking time to check in with God.
But the problem is that we can't always see what's around the next bend. Before you make the next big decision in your business, take some time to pray for wisdom first. In James 1:5, we're told that God LOVES this kind of request!
"If you need wisdom, ask our generous God, and he will give it to you. He will not rebuke you for asking." (NLT)
What decisions are you struggling with in your business? Click reply and share your struggle!
[Sign Off]." 
These weekly emails are a wonderful addition to your faith based content plans.  Use them to encourage others and spread God's Love, Grace & Mercy far and wide!
Only $29.00!