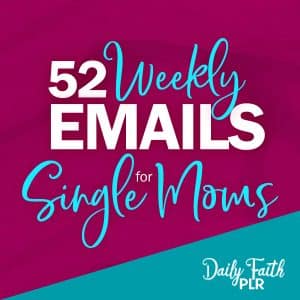 Introducing Private Label Rights to 52 Weekly Notes for Single Moms.
Use these emails to stay in touch with your community. These can be a great stand alone nurture or be used to kick start a weekly newsletter.
With full rights to edit as you wish, you can be as creative as you like!
This content package is a perfect pairing to our 52 Inspirational Social Graphics for Single Moms Package.
Are you unfamiliar with PLR? Learn more here.
12,712 Total Word Count – Emails (Editable Word Document)
Example Email:
Subject: Everyday Affirmations!
Hey [Name]
Do you want to know a great way to teach your children about speaking positive, kind, loving and life-filled words? It is found in daily affirmations.
We all are born with a sinful nature that speaks negative and non-affirming words. To change that we must give our hearts and lives to God. To change the way we speak, we should retrain our words.
There is a simple way that you can begin to do that with your children that only takes a few minutes per day.
It's called making godly affirmations.
They can be bible verses or just good things you want to confess over yourself and your children.
You can write them on 3×5 note cards or sticky notes to help you and your children remember them.
All you need to do is pick a time of day to say them. But usually, the morning is the best time. It gets everyone's day off to a good start.
Here are a few to get you started.
"I am loved by God, and I am strong in Him."
"I can do all things through Christ that strengthens me."
"I have the mind of Christ today."
"Today will be a good day and I am full of joy."
By training yourself and your children to speak affirming words you will be giving them a gift that will never leave their lives.
If you have any questions about affirmations, please click this email and let's chat.
[Sign Off]
These weekly emails are a wonderful addition to your faith based content plans.  Use them to encourage others and spread God's Love, Grace & Mercy far and wide!
Only $29.00!