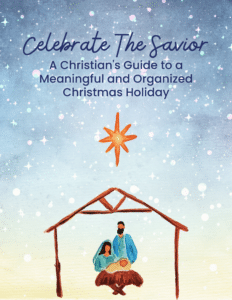 Introducing…
Our new Celebrate The Savior Guide. This is your go-to resource for an organized and meaningful Christmas season.
With the hustle and bustle of holiday festivities, it's easy to forget the true essence of Christmas – the birth of Jesus Christ.
This guide aims to help you stay focused on the miraculous story of Christ's birth and its profound impact on our lives. It's not just a planner, but a roadmap to a holiday season filled with spiritual connection, joy, peace, and meaningful memories.
The guide covers everything from simplifying your schedule to incorporating worship into your daily activities, with plenty of suggestions to suit diverse preferences.
Let's celebrate the Savior together and create a Christmas holiday that honors Him in the most wonderful ways.
Package Contents
The includes the content package Celebrate The Savior: A Christian's Guide to a Meaningful and Organized Christmas Holiday (2,667 Words) delivered to you in two ways:
A Word Document
A Designed-for-You Canva Template
Delivering in both Word and Canva gives you simple options for using the content any way you like. The Canva Template makes it sooo easy for you to customize it for your people!  Change fonts, use different images, add your own words and calls to action.
Peek at the Canva Template:
With full rights to edit as you wish, you can be as creative as you like!
Only $15!

Are you unfamiliar with done-for-you content? Learn more here.