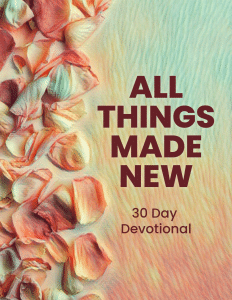 Introducing 30 Day Devotional: All Things Made New.
If you minister to authors and those who want to be one, you know how much they value spending time with God and a sweetly inviting daily devotion is perfect for that.
Perfectly Prepared For Ministry Outreach!
Whether you want to use these devotions to serve the people you already know – or share them for ministry outreach, we're thrilled to know we're saving you time and supporting your mission to love on others.
With full rights to edit as you wish, you can be as creative as you like!
Are you unfamiliar with done-for-you content? Learn more here.
Devotions Are A Minimum of 250 Words Each
10,785 Total Word Count (Editable Word Document)
Social Friendly Prayer Images (Canva Template)
Example Devotional From This Set:
Step Out of the Boat!

Scripture:

"Come," he said. Then Peter got down out of the boat, walked on water and came toward Jesus. -Matthew 14:29

 Encouragement:

In Matthew 14, we read about Peter's faith adventure, stepping out of the boat to walk towards Jesus. It's an exciting story. Jesus called Peter to step out of his comfort zone, trust Him and follow His lead. And what happened? Peter walked on water! He experienced something incredible because he dared to step out in faith.

Now think about your own life: how often do you stay stuck in the safe 'boat' of your comfort zone, too scared to step out into the unknown and the new that God might be calling you into? How often do you settle for what is safe, familiar, and comfortable, rather than taking a risk, stepping out in faith, and trusting God?

It's tempting to think it was somehow easier for Peter because he was in the physical presence of Jesus. The truth is though, that Peter had no idea what was going to happen when he took that step of faith. He had no idea what God would do in response to his faith and obedience. But that didn't stop him from stepping out and doing it anyway, because he trusted Jesus and knew that God loved him and wanted the best for him.

Jesus is calling us to do the same. And when we dare to take that first step in obedience to His call, we can experience miracles, we can see God move in incredible ways, and can find new levels of joy and peace. Amazing things can happen!

Today then, let's choose to take a step of faith toward Jesus. To leave the safety of our 'boat' and trust that He will guide us through whatever might be waiting for us as we step out in obedience to His call.

Prayer:

Father, thank You for calling me to step out in faith and trust that You will lead me into all the new things You have for my life. Help me to be brave and courageous, to surrender my fears and worries, and to step out boldly in obedience to Your call. In Jesus' name I pray, Amen!
The Devotional Titles:
Today is a Brand New Day
Creating a New Beginning with God
Make Room for the New!
A Fresh Start for your Future
Refreshed and Renewed: God's Promise for You Today
Ready for Reset
Receive the Refreshing Rains of God's Spirit
Divine Restoration is Yours
Reconnect and Recalibrate
A New Hope
When God Seems Silent
Learning to Trust God in the Unknown
In His Perfect Time
Whole Again
Do You Need a Vision Correction?
Keys to Unlock God's Promises
Renew Your Mind and Be Transformed!
What Do You Want Me to Do For You?
The Joy of the Lord is Your Strength
Sing a New Song
A Life Less Ordinary
Keys to the Kingdom
Old Paths to New Life
I Will Be Your Guide
Hope and a Future
Speak Life!
Trusting in the Trials
You Are Well Able!
The Perfect Storm: When We Are Weak, God Is Strong
Step Out of the Boat!
Social Friendly Prayer Images!
Each of the devotions has a prayer included and we've turned them into beautiful images you can use in a variety of places. With the included Canva Template file link you can easily make any changes and add your own branding if you wish – or use the PNG images as is.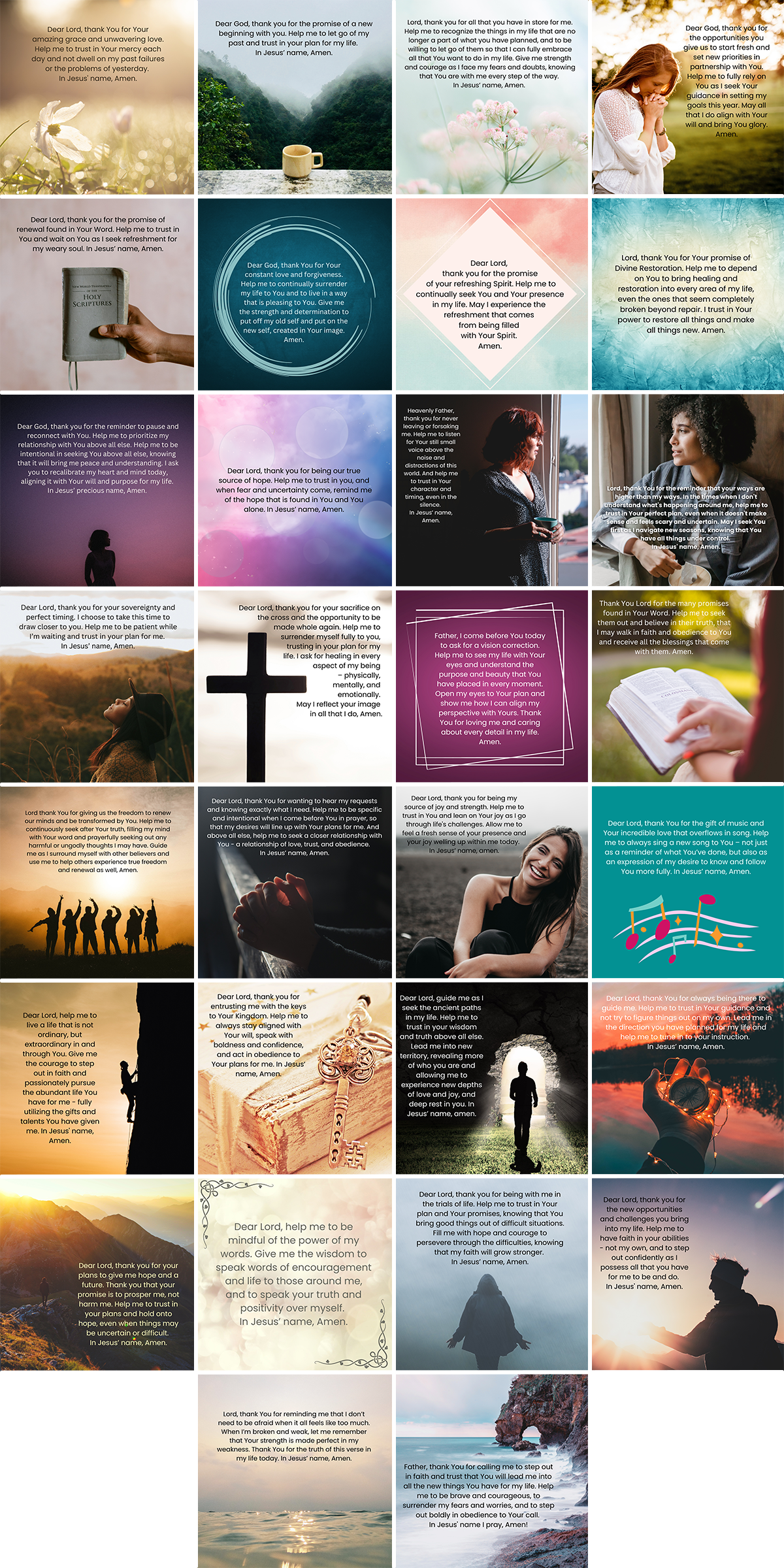 These devotions are a wonderful addition to your faith based content plans.  Use them to encourage others and spread God's Love, Grace & Mercy far and wide!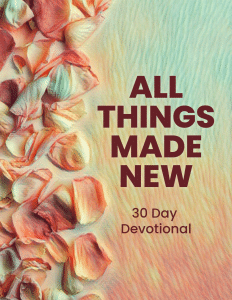 Pay $29.00 Now

Say Yes To Our New Canva Templates Upgrade Option – Only $19 More!
We've taken the complete set of devotions and moved them into a beautifully designed Canva Template – saving you hours of administrative and design time! Check out how wonderful it looks all set up for you, ready to customize in your own Canva account when ready!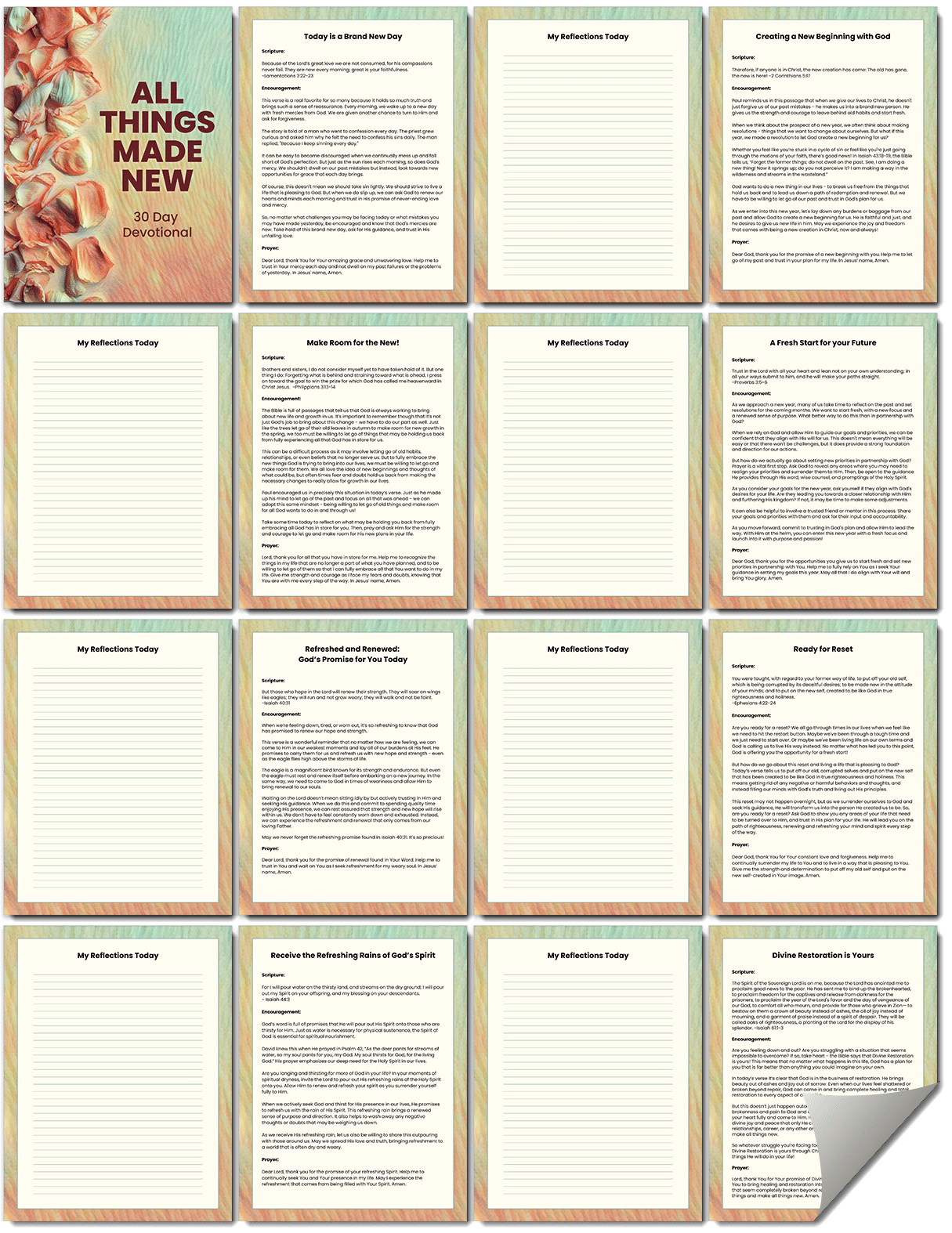 With our Canva Template you are minutes away from adding your own content, whether you want to have a page about you or a closing call to action, it's so easy to duplicate a page and create exactly what you want.

Watch Us Turn This Done-For-You Devotional Into A Printed Product!
What Can You Do With Our Done-For-You Content?
Create encouraging blog posts that support your community.
Create ministry branded ebooks to dig deeper on important topics.
Share prayer and journal prompts to support others as they grow in faith.
Offer ministry branded scripture memory tools to tuck more of God's Word into hearts and minds.
Share more encouraging messages and inspiring images on social media.
Add Biblically based content to email newsletters, saving so much time!
Offer a daily devotional by email or texts.
Run a devotional Facebook Group and create a warm space for spiritual growth.
Record the content as spoken word podcasts and reach more people on audio platforms.
Record the content in videos and expand your ministry presence on YouTube.
Add more meaningful content to the weekly church bulletin.
Support Pastor's desire to stay in touch and uplift their church family with regular messages.
Offer self-paced bible study resources or run a group bible study.
You can leverage these resources to mentor/disciple one on one.
Any of these ministry tools can be published as inspiring printables.
Create beautiful and inspiring ministry merchandise.
Our 7 Day Easy Guarantee
We stand behind our products with a 100% satisfaction guarantee. You may request a refund on any product you purchase at Daily Faith within seven days of purchase and it will be given without delay or question.
Pay $29.00 Now

Or Say Yes To Our New Canva Templates Upgrade Option – Only $19 More!