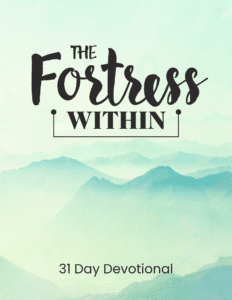 Introducing a new 30-Day Devotional: The Fortress Within.
This devotional plan serves as a guide to discovering and nurturing our fortress within, cultivating inner strength and resilience, and growing closer to God. Each day presents an opportunity to delve deeper into what it means to have God as our fortress and how this impacts our daily lives.
We'll explore a new biblical principle, reflecting on its significance and engaging in prayer to incorporate it within our spiritual fortress. But remember, this journey isn't just about construction – it's about transformation. As we lay each brick, we're shaping our hearts, aligning our spirits with God's will, and nurturing a deeper relationship with Him.
Perfectly Prepared For Ministry Outreach!
Whether you want to use these devotions to serve the people you already know – or share them for ministry outreach, we're thrilled to know we're saving you time and supporting your mission to love on others.
With full rights to edit as you wish, you can be as creative as you like!
Are you unfamiliar with done-for-you content? Learn more here.
Devotions Are 200-400 Words Each
9,778 Total Word Count (Editable Word Document)
Social Friendly Prayer Images (Canva Template)
Example Devotional From This Set:
Day 4: Embracing God's Grace

Scripture:

For it is by grace you have been saved, through faith—and this is not from yourselves, it is gift of God— not by works, so that no one can boast. (Ephesians 2:8-9 NIV)

Devotional Message:

Picture you, in the thick of a grueling marathon. You've been pounding the pavement for what feels like an eternity, your legs are crying out, your lungs are on fire, and the finish line is nowhere in sight. Then, like a beacon in the fog, a hand extends to you, offering a bottle of water. That, my friend, is grace. A gift, lavished upon you, not because you've crossed some invisible finish line, but simply because you need it.

Isn't that just the perfect picture of God's grace? It's His unearned favor, His love reaching out to us when we're caught in the whirlwind of life's marathon, feeling spent, defeated, and doubting if we can go another step. God's grace is like a fortified castle within us, infusing us with strength, hope, and the courage to take life's challenges by the horns.

Here's the thing about God's grace, it isn't a trophy we can win, no matter how hard we push or how good we perform. It's a gift, freely given by Him from the depths of His boundless love for us. And here's the real game-changer – when we truly welcome this grace, it radically transforms our lives. It bolsters us, builds us up, and gears us up to weather whatever life throws at us.

Grace, it's not just about being pardoned, it's about being empowered. It's about standing firm in the face of adversity, confident in the knowledge that we're backed by the ultimate power – the grace of God.

Prayer:

Dear Lord, I come before You with a humble heart, grateful for Your amazing grace. I confess that sometimes I struggle to fully understand and accept this gift. I seek Your guidance to deepen my understanding of Your grace and to truly embrace it. Help me to see Your grace not just as forgiveness, but as a fortress within me, strengthening me for the battles I face. In Jesus' name, I pray. Amen.

Social Friendly Prayer Images!
Each of the devotions has a prayer included and we've turned them into beautiful images you can use in a variety of places. With the included Canva Template file link you can easily make any changes and add your own branding if you wish – or use the PNG images as is.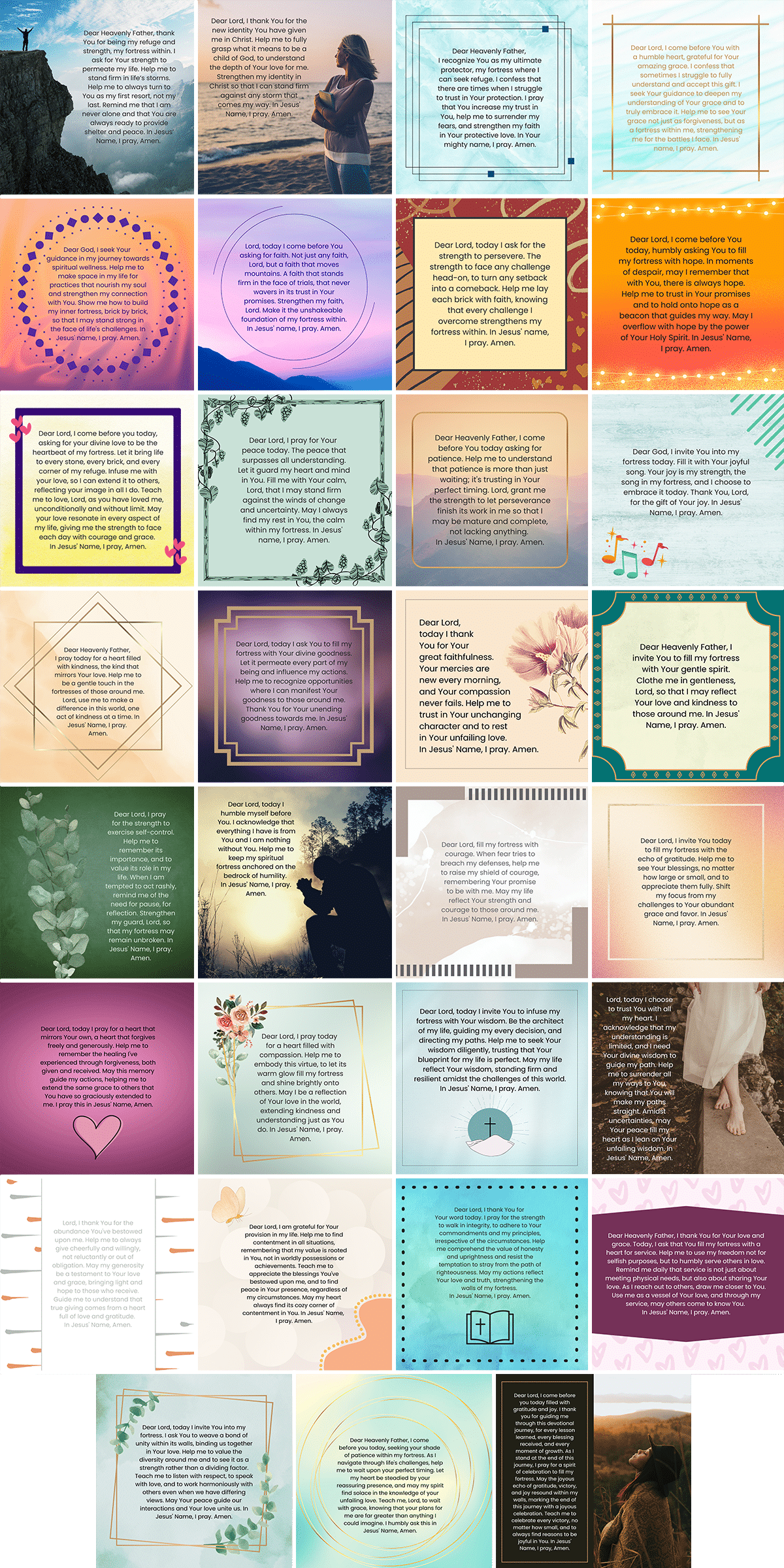 These devotions are a wonderful addition to your faith based content plans.  Use them to encourage others and spread God's Love, Grace & Mercy far and wide!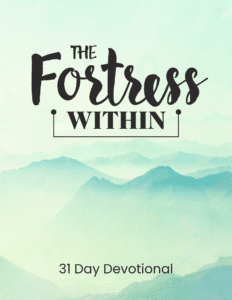 Pay $29.00 Now

Say Yes To Our New Canva Templates Upgrade Option – Only $19 More!
We've taken the complete set of devotions and moved them into a beautifully designed Canva Template – saving you hours of administrative and design time! Check out how wonderful it looks all set up for you, ready to customize in your own Canva account when ready!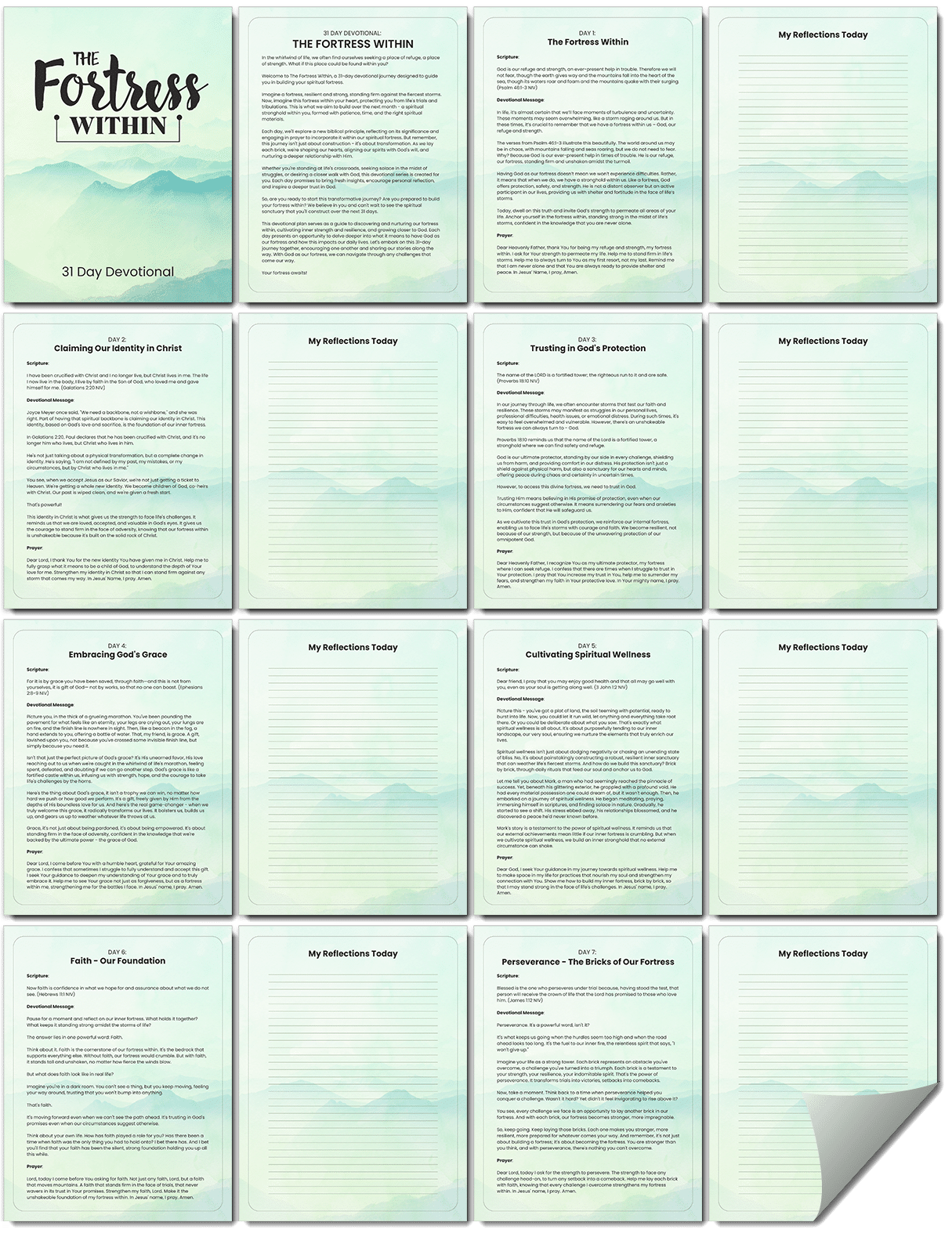 With our Canva Template you are minutes away from adding your own content, whether you want to have a page about you or a closing call to action, it's so easy to duplicate a page and create exactly what you want.

What Can You Do With Our Done-For-You Content?
Create encouraging blog posts that support your community.
Create ministry branded ebooks to dig deeper on important topics.
Share prayer and journal prompts to support others as they grow in faith.
Offer ministry branded scripture memory tools to tuck more of God's Word into hearts and minds.
Share more encouraging messages and inspiring images on social media.
Add Biblically based content to email newsletters, saving so much time!
Offer a daily devotional by email or texts.
Run a devotional Facebook Group and create a warm space for spiritual growth.
Record the content as spoken word podcasts and reach more people on audio platforms.
Record the content in videos and expand your ministry presence on YouTube.
Add more meaningful content to the weekly church bulletin.
Support Pastor's desire to stay in touch and uplift their church family with regular messages.
Offer self-paced bible study resources or run a group bible study.
You can leverage these resources to mentor/disciple one on one.
Any of these ministry tools can be published as inspiring printables.
Create beautiful and inspiring ministry merchandise.
Our 7 Day Easy Guarantee
We stand behind our products with a 100% satisfaction guarantee. You may request a refund on any product you purchase at Daily Faith within seven days of purchase and it will be given without delay or question.
Pay $29.00 Now

Or Say Yes To Our New Canva Templates Upgrade Option – Only $19 More!