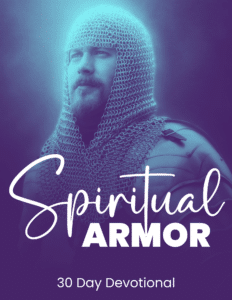 Introducing a new 30 Day Devotional: Spiritual Armor
Wearing the armor of God helps protect us from the wickedness of the world. It shields us from spiritual attacks and keeps us connected to God, allowing us to seek His guidance in all aspects of our lives. Essentially, the armor of God represents the power and authority we gain from living in alignment with His will.
This devotional is handy for spending time in God's word and reflecting on a sweetly inviting daily devotion.
Perfectly Prepared For Ministry Outreach!
Whether you want to use these devotions to serve the people you already know – or share them for ministry outreach, we're thrilled to know we're saving you time and supporting your mission to love on others.
With full rights to edit as you wish, you can be as creative as you like!
Are you unfamiliar with done-for-you content? Learn more here.
Devotions Are 200-400 Words Each
8,783 Total Word Count (Editable Word Document)
Social Friendly Prayer Images (Canva Template)
Example Devotional From This Set:
Living In Faith

Scripture:

The one whose walk is blameless, who does what is righteous, who speaks the truth from their heart. -Psalm 15:2

Encouragement:

In our spiritual walk, truth is a vital component of the armor we're called to put on. But what does it mean to live in truth?

It goes beyond merely speaking the truth; it's about embodying truth in our thoughts, words, and actions.

Psalm 15:2 presents a picture of someone who is living in truth. This person lives blamelessly, does what is right, and speaks truth from their heart. Here, truth is not only spoken but deeply rooted within the heart – the core of our being.

Living in truth requires us to align our thoughts with God's word, to let His truths fill our minds and shape our perspectives. It's about speaking words that reflect God's character – words that are honest, kind, and encouraging. And it's about acting in ways that honor God, demonstrating integrity and love in all we do.

As we put on the belt of truth, we're girding ourselves with God's word, allowing it to guide us in every aspect of our lives. The truth of God's word helps us discern right from wrong, real from fake, and guides us in the path of righteousness.

When we live in truth, we become lights in a world often shrouded in deception and falsehood. We reflect God's character, showing others a glimpse of His love, grace, and faithfulness.

Prayer:

Heavenly Father: thank You for Your Word, which is the ultimate truth. Help me to embody this truth in my thoughts, words, and actions. May I live blamelessly, do what is right, and speak truth from my heart. In Jesus' Name, I pray. Amen.
The Devotional Titles:
Salvation: Our Blessed Hope
The Living Word
Pray Without Ceasing
Truth In Action
Feet Fitted With Readiness
Spreading Peace
The Power of God's Word
Faith: The Victory Over the World
Living In Faith
Walk in Peace
Choose Your Weapon
Stand Firm
Secure in Him
Clothed in the Armor of Right Living
A Call to Battle
Take Refuge
Under His Shield
Not Left Alone
The Ultimate Renovator
You Have What You Need
Coloring Outside the Lines
Are you using the right ID?
Guard Your Identity
What's Your Signature Style?
Don't Forget Your Helmet
Truth Unveiled
The Righteous Life
Righteous and Justice
Peace Beyond Understanding
Faith Moves Mountains
Social Friendly Prayer Images!
Each of the devotions has a prayer included and we've turned them into beautiful images you can use in a variety of places. With the included Canva Template file link you can easily make any changes and add your own branding if you wish – or use the PNG images as is.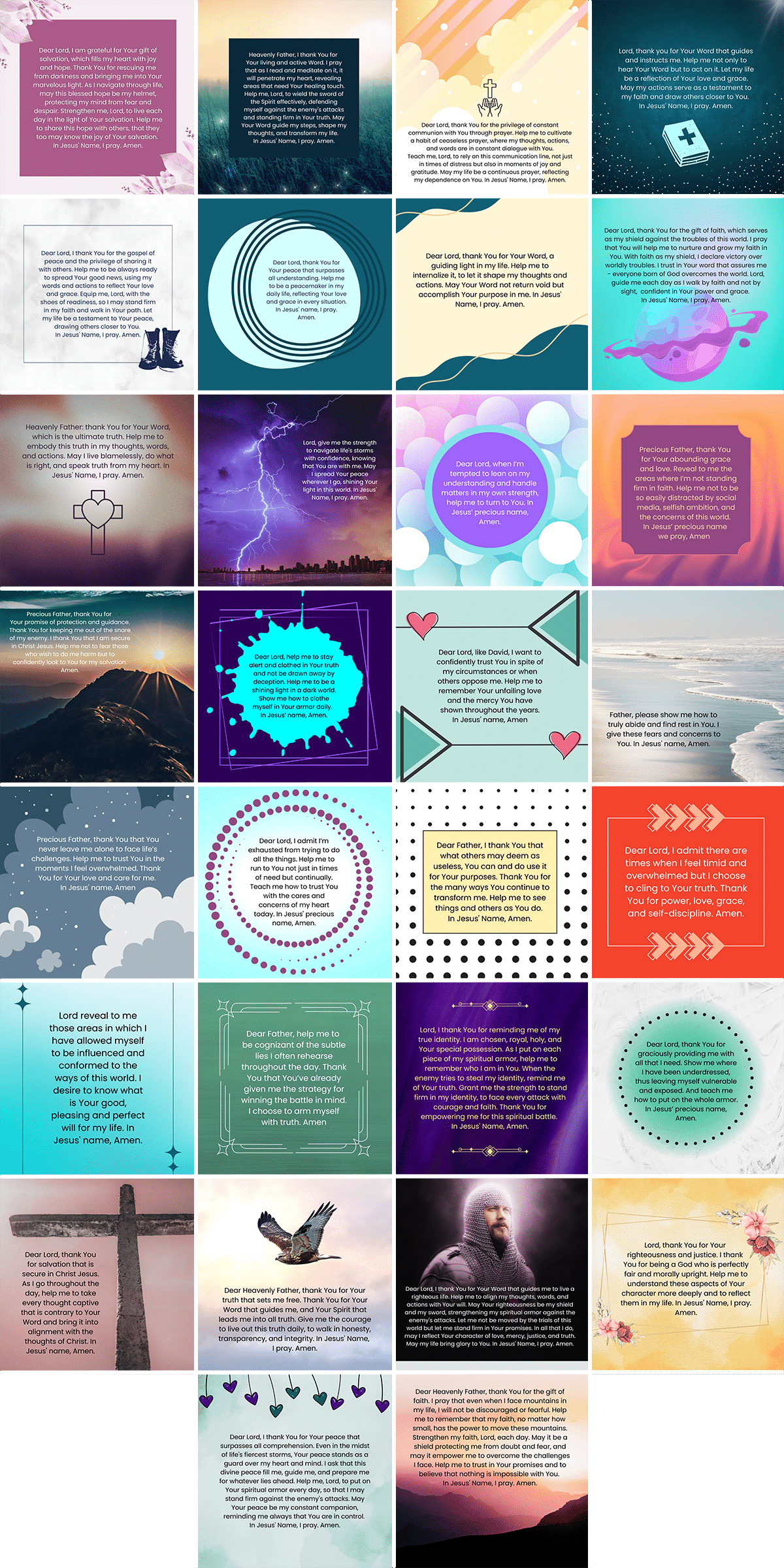 These devotions are a wonderful addition to your faith based content plans.  Use them to encourage others and spread God's Love, Grace & Mercy far and wide!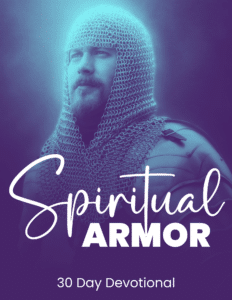 Pay $29.00 Now

Say Yes To Our New Canva Templates Upgrade Option – Only $19 More!
We've taken the complete set of devotions and moved them into a beautifully designed Canva Template – saving you hours of administrative and design time! Check out how wonderful it looks all set up for you, ready to customize in your own Canva account when ready!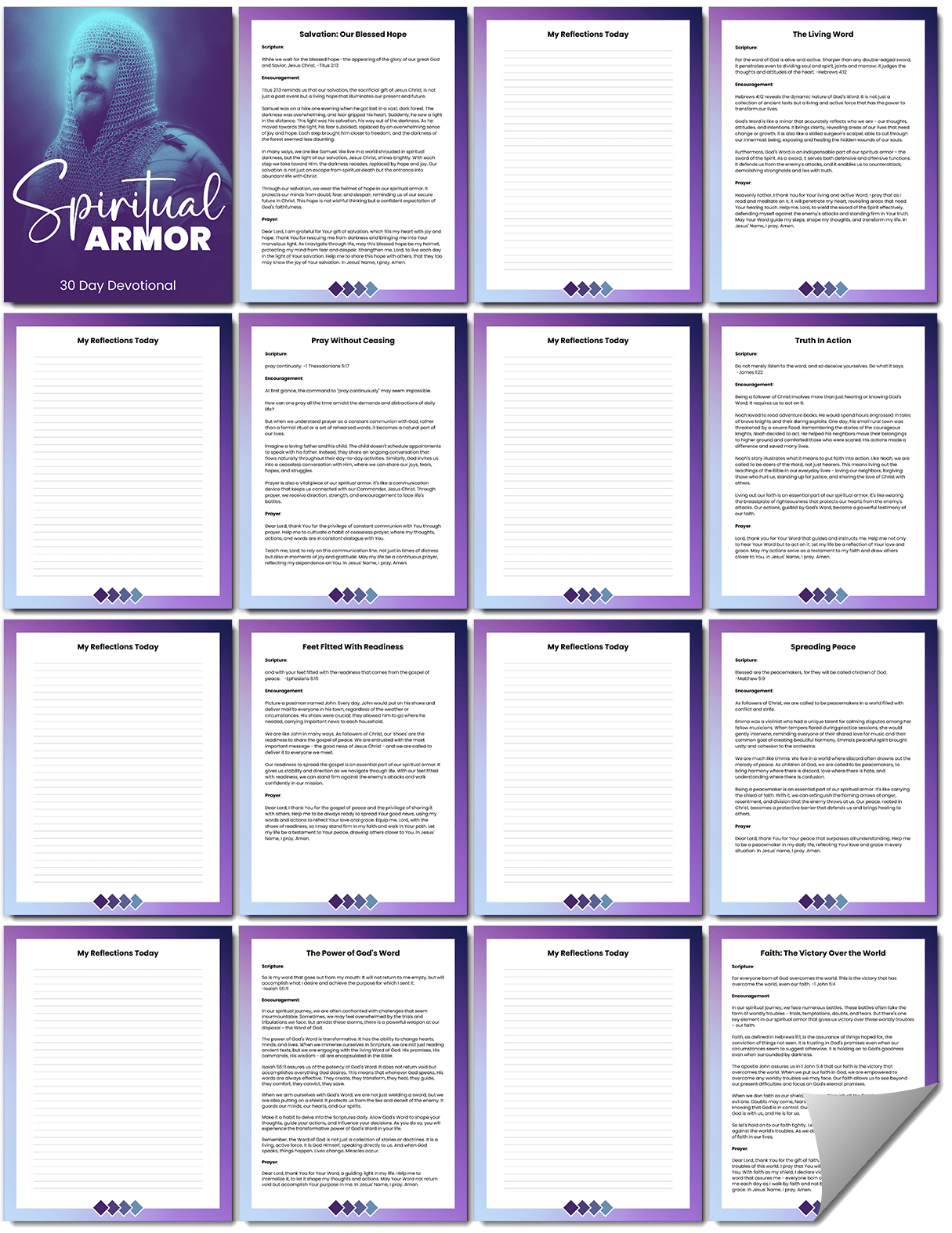 With our Canva Template you are minutes away from adding your own content, whether you want to have a page about you or a closing call to action, it's so easy to duplicate a page and create exactly what you want.

What Can You Do With Our Done-For-You Content?
Create encouraging blog posts that support your community.
Create ministry branded ebooks to dig deeper on important topics.
Share prayer and journal prompts to support others as they grow in faith.
Offer ministry branded scripture memory tools to tuck more of God's Word into hearts and minds.
Share more encouraging messages and inspiring images on social media.
Add Biblically based content to email newsletters, saving so much time!
Offer a daily devotional by email or texts.
Run a devotional Facebook Group and create a warm space for spiritual growth.
Record the content as spoken word podcasts and reach more people on audio platforms.
Record the content in videos and expand your ministry presence on YouTube.
Add more meaningful content to the weekly church bulletin.
Support Pastor's desire to stay in touch and uplift their church family with regular messages.
Offer self-paced bible study resources or run a group bible study.
You can leverage these resources to mentor/disciple one on one.
Any of these ministry tools can be published as inspiring printables.
Create beautiful and inspiring ministry merchandise.
Our 7 Day Easy Guarantee
We stand behind our products with a 100% satisfaction guarantee. You may request a refund on any product you purchase at Daily Faith within seven days of purchase and it will be given without delay or question.
Pay $29.00 Now

Or Say Yes To Our New Canva Templates Upgrade Option – Only $19 More!