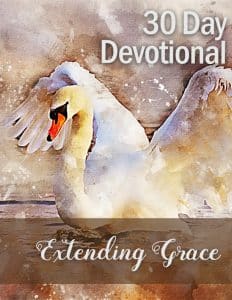 Introducing Private Label Rights to a 30 Day Themed Devotional Set About Extending Grace.
Use them on your blog, in an email sequence or offer the entire set as a download.
With full rights to edit as you wish, you can be as creative as you like!
Are you unfamiliar with PLR? Learn more here.
Devotions Are A Minimum of 225 Words Each
7536 Total Word Count (Editable Word Document)
Daily Checklist with that day's Bible verse so you can check off each day (Editable Word Document)
Social Friendly Title Images Provided (JPG & Editable PSD Files)
Example Devotional From This Set:
With All Your Heart

"Whatever you do, work at it with all your heart, as working for the Lord, not for human masters…" – Colossians 3:23, NIV  

When Mary's husband left her for another woman and refused to pay child support, she had no income. She had been a stay-at-home mom to raise their children and now, she had to find job even though she hadn't worked for several years.

Mary looked everywhere and could only find a job at a factory. Without the job, her children would go hungry so Mary took it. The job involved cleaning large industrial ovens. The factory was hot, the work involved removing stuck grime, and getting locked in one of the ovens was a very real concern for some of the workers.

At first, Mary was angry. Her anger showed in the way she approached her work. Since resignation wasn't an option, Mary chose to change her attitude. She focused her energy on working for the Lord.

A few months later when her boss began working at another factory, he asked Mary to transfer there, too. Then he gave her a fantastic position with excellent benefits.


God, help me to embrace all my tasks as work I'm doing for You. Grant me the grace to stay faithful no matter what's going on around me. In Jesus' name, Amen.  
The Devotional Titles:
The Best Land
Grace & Healing
Sharing Comfort
The Gracious Father
Seek Forgiveness & Restoration
Reflecting Grace
Grace in the Grocery Store
The Father's Forgiveness
Gracious Words
How Has Grace Impacted You?
Seventy Times Seven
Throne of Grace
With All Your Heart
A Gracious Gift
Forgiveness and Grace
Building Margin
The Good Samaritan
Tender Hearted
Think about Such Things
Love Is Kind
Put on Kindness
Loyalty in Affliction
Asking for Grace
Grace for Visitors
Do Good
The Diagnosis
Sufficient Grace
Gracious Words
Walk in Love
Grace Over Revenge
These devotions are a wonderful addition to your faith based content plans.  Use them to encourage others and spread God's Love, Grace & Mercy far and wide!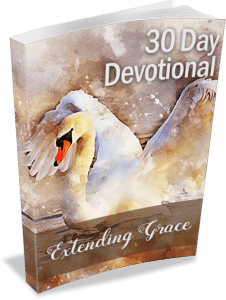 Pay $14.97 Now