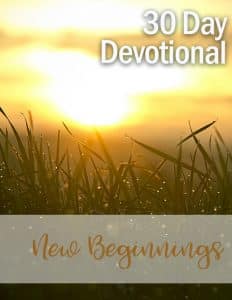 Introducing Private Label Rights to a 30 Day Themed Devotional Set About New Beginnings.
Use them on your blog, in an email sequence or offer the entire set as a download.
With full rights to edit as you wish, you can be as creative as you like!
Are you unfamiliar with PLR? Learn more here.
Devotions Are A Minimum of 225 Words Each
8,466 Total Word Count (Editable Word Document)
Daily Checklist with that day's Bible verse so you can check off each day (Editable Word Document)
Social Friendly Title Images Provided (JPG & Editable PSD Files)
Example Devotional From This Set:
Set Free

"For we know that our old self was crucified with him so that the body ruled by sin might be done away with, that we should no longer be slaves to sin— because anyone who has died has been set free from sin." – Romans 6:6-7, NIV  

Aiden was twelve years old, a foster kid living in a rundown neighborhood. He joined a gang and spent the next few years dealing drugs and engaging in other illegal activities.  

Shortly after he turned twenty, Aiden was arrested. He was sentenced to several years in prison for his part in a home robbery. He had taken priceless family heirlooms an elderly woman and sold them for money.

When the woman requested to meet with him, Aiden was nervous. He expected to see hate in her eyes and hear condemnation fall from her lips. But he received neither. 

Instead, a frail woman with a head full of white hair showed up and gave him the biggest hug. She explained that she'd come not to scold but to forgive. "I want you to know that new beginnings are possible at any moment." She said. "No matter what you've done or how far you've gone." 

Like Aiden, you may have done things you're not proud of. But Your Heavenly Father is willing to offer you a new beginning. "If we confess our sins, he is faithful and just and will forgive us our sins and purify us from all unrighteousness." (1 John 1:9, NIV) 

God, I confess I've sinned. I want to be set free, to walk in a new beginning. Show me the right path and help me to walk it. In Jesus' name, Amen.  
The Devotional Titles:
Red Sea Faith
A New Heart
Set Free
Stand Firm
Small Sprouts
New Places
Beautiful Birthdays
Old Branches
Through the Fire
Finding Forgiveness
The God of Second Chances
Family Ties
When You Hope for Healing
Sheltered
What You Leave Behind
When You Need a Breakthrough…
A Better Tomorrow
The Spark
New Mercies
When the Past Paralyzes You
Be Courageous
Messy Lives
The Guardian Redeemer
Pressing Forward
Be an Encourager
Cluttered Heart
Shining Love
The Moment of Betrayal
The Gift of Second Chances
Facing the End
These devotions are a wonderful addition to your faith based content plans.  Use them to encourage others and spread God's Love, Grace & Mercy far and wide!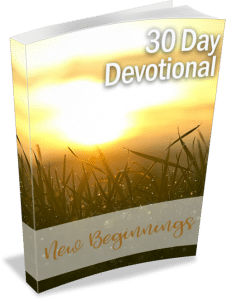 Pay $14.97 Now