It's surprising to us that we often have to convince someone they really do need to start a mailing list for their ministry.
Why?
Once you have their email address – you can stay in touch when you want to.  You don't have to hope they see you on Social Media again or remember to pop back by your website.  You get to reach out and share new resources with them as often as you'd like and as long as they remain interested and subscribed, you're building a great relationship.
You Need an Mailing List Management System
If you're new to the idea of a mailing list you might not realize that it isn't something you can manage on your own.  Even if you can create a list and mail it from your Gmail account – don't!
The main reason is that email servers have filters that detect when a user is sending email out to a large number of people and that alone can get your email address flagged as a spam source.  Unfair but true.
You can familiarize yourself with US Spam laws here.
When you read up on the rules, you realize that you are safer when you utilize a system that allows subscribers to opt in and out easily and tracks how and where they subscribed.
Another big reason to choose a good Mailing List Management Tool over running a list on your own is that you can easily schedule mailings with an autoresponder.  You can also set up sequential email messages for things like daily devotions or other periodic studies.
Choosing the Right System
If you host your mailing list on your own server you may run into the same problems with being labeled as a spam source.  Yet many business owners do so without a lot of trouble by taking care to set up their list scripts so that email is sent out at a rate that flies below spam filter radar.
It's my preference to use a hosted solution since list management system owners have specialized in staying up to date with email deliverability issues and work very hard to stay in compliance so that more of your email reaches its intended destination.
Subscriber Gifts!
Since an autoresponder will allow you to immediately deliver a digital gift, it's easy to offer a gift to help visitors decide to opt into your mailing list.
Offer a special gift for subscribing that will attract your perfect reader.  A tip sheet, a special report, a great resource list, etc.  Take some time and format this freebie attractively and create an image to represent the gift.
We offer a variety of Subscriber Gift items you can purchase and brand to match your minsitry at Daily Faith.
Using Landing Pages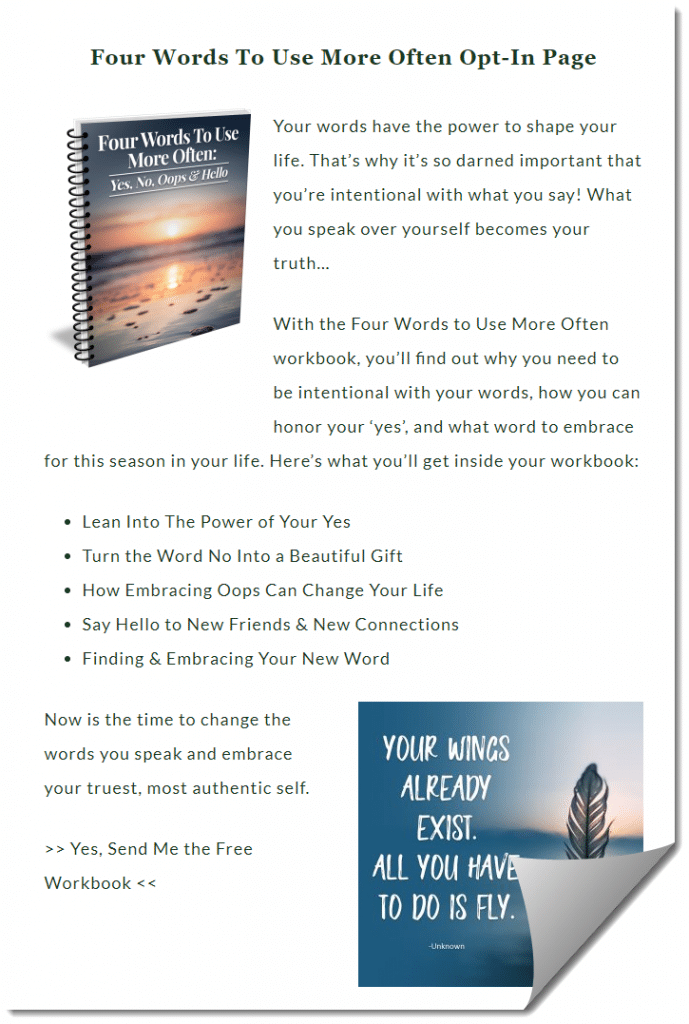 A Landing Page has one purpose.  It makes an offer and asks for a name and email address in exchange for what is offered.  This tactic can be very useful when you're building a list.
Set up a page that describes your Subscriber Gift and invites them to sign up for it.  Keep it simple and direct.
Then, instead of telling people to 'visit my site and look for the optin form on my sidebar", drive social traffic direct to the Landing Page and watch the subscriptions come in.
Thank You Pages
When someone puts their name and email into the opt in and presses the submit button, you will set the form up to take the subscriber to a confirmation page.
Use this page to thank your new subscriber and give them instructions to look for your first email.  If your list is double opt in, tell them exactly how to confirm their subscription.  The more detailed your instructions the better!
Since those who are viewing this page have just said yes to you about a mailing list, now is a great time to make another offer.  Perhaps invite them to like your Blog on Facebook or follow you on Instagram.
Confirmation & Welcome Emails
Do not overlook the importance of this first email communication with your new subscriber.
Use your mailing list software codes to greet the reader by name and thank them for trusting you with their email.  If your list is double opt in, tell them exactly what to do to confirm the email.
If you promised a free gift, the Welcome Email is where you will deliver it.  Give them a link to the resource you offered and tell them how to collect it.
Making Friends
Do not be afraid to be personable in your emails. Your Mailing List is an extension of your ministry. Let your readers get to know you.  Share your likes, tell them about your pets, and give them a little peek into your life now and then.
I feel most loyal to those who I feel I have gotten to know something about.  Your readers will feel the same way.