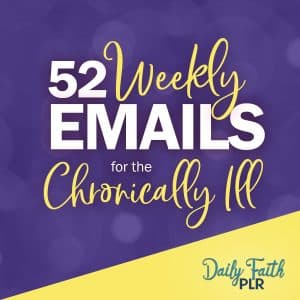 Introducing Private Label Rights to 52 Weekly Notes for the Chronically Ill.
Use these emails to stay in touch with your community. These can be a great stand alone nurture or be used to kick start a weekly newsletter.
With full rights to edit as you wish, you can be as creative as you like!
This content package is a perfect pairing to our 52 Inspirational Social Graphics for the Chronically Ill Package.
Are you unfamiliar with PLR? Learn more here.
9,040 Total Word Count – Emails (Editable Word Document)
Example Email:
Subject: The One Who Loves You Never Tires!
Hey [Name]
It's frustrating to live with a chronic illness. You can no longer do things easily. Simple tasks that you once completed in minutes may now take you hours. Projects that weren't a big deal just a few weeks ago now stretch you to capacity.
Few things make us more aware of our limits than failing health. But even as you face these frustrating obstacles, you can take comfort in this: you serve the limitless God!
The One who loves you never tires. He never sleeps (Psalm 121:4). He is always standing guard, watching over you (Psalm 121:5). You are held securely in His hand (John 10:28).
Can I say a prayer for you today, friend?
God, help (name) to rest in You today. When they feel frustrated and overwhelmed by their health, remind them that You are near. You are the limitless God and You are holding onto them! In Jesus' name, Amen.
[Sign Off]
These weekly emails are a wonderful addition to your faith based content plans.  Use them to encourage others and spread God's Love, Grace & Mercy far and wide!
Only $29.00!