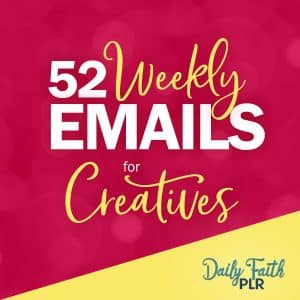 Introducing Private Label Rights to 52 Weekly Notes for Creatives.
Use these emails to stay in touch with your community. These can be a great stand alone nurture or be used to kick start a weekly newsletter.
With full rights to edit as you wish, you can be as creative as you like!
This content package is a perfect pairing to our 52 Inspirational Social Graphics for Creatives Package.
Are you unfamiliar with PLR? Learn more here.
8,007 Total Word Count – Emails (Editable Word Document)
Example Email:
Subject: Where Does Your Creativity Come From?
Hey [Name]
You see a brilliant sunset and you itch to capture it on film or you long for your brushes to paint it. You hear a song on the radio, and it inspires you to write a story about a fairytale princess living in her castle.
Where does this desire to create come from? Well, in a word: God. Just as earthly fathers pass on some of their traits, your Heavenly Father passed on one of His traits to you: His creativity!
This is what the Bible means in Genesis 1:27.
"So God created mankind in his own image, in the image of God he created them; male and female he created them."
It's amazing, isn't it?! To think that the Creator of the Universe gave you the same ability to create, too!
[Sign Off]
These weekly emails are a wonderful addition to your faith based content plans.  Use them to encourage others and spread God's Love, Grace & Mercy far and wide!
Only $29.00!