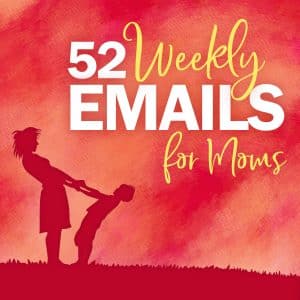 Introducing Private Label Rights to 52 Weekly Notes for Mom.
Use these emails to stay in touch with your community. These can be a great stand alone nurture or be used to kick start a weekly newsletter.
With full rights to edit as you wish, you can be as creative as you like!
This content package is a perfect pairing to our 52 Inspirational Social Graphics for Moms Package.
Are you unfamiliar with PLR? Learn more here.
8,237 Total Word Count – Emails (Editable Word Document)
Example Email:
Subject: God Sees You, Mama!
Hey [Name]
You didn't think your life would turn out this way. But here you are, parenting in a difficult place.
Perhaps you're walking through a challenging pregnancy. Maybe your child is special needs. Or perhaps you're the single mama after thinking you'd be doing this parenting thing with a loving spouse.
Now, you're bumbling your way through this messy adventure called parenting, wondering where's God in all this.
When we're hurting or going through difficulties, it's easy to think God isn't there. Be encouraged and reminded, today, that He is with you and He sees you, beautiful Mama!
As difficult as it may be when you're feeling broken, discouraged, or overwhelmed by parenting, you can find your comfort in Him. He's holding onto you. <3
How can I pray over and encourage you today? Click reply on this message. I'd be honored to stand for you and with you.
[Sign Off]
These weekly emails are a wonderful addition to your faith based content plans.  Use them to encourage others and spread God's Love, Grace & Mercy far and wide!
Only $29.00!