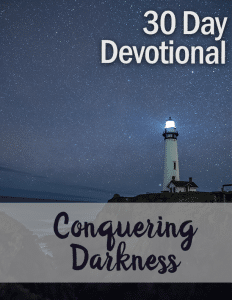 Introducing Private Label Rights to a 30 Day Themed Devotional Set About Conquering Darkness.
Use them on your blog, in an email sequence or offer the entire set as a download.
With full rights to edit as you wish, you can be as creative as you like!
Are you unfamiliar with PLR? Learn more here.
Devotions Are A Minimum of 225 Words Each
7480 Total Word Count (Editable Word Document)
Daily Checklist with that day's Bible verse so you can check off each day (Editable Word Document)
Social Friendly Title Images Provided (JPG & Editable PSD Files)
Example Devotional From This Set:
Showing Up to Serve

"Immediately Jesus made the disciples get into the boat and go on ahead of him to the other side, while he dismissed the crowd. After he had dismissed them, he went up on a mountainside by himself to pray." – Matthew 14:22-23, NIV  

Renee was passionate about helping others. She had received the spiritual gift of mercy and she found herself strongly identifying with those in pain. Because of her gift, she felt drawn to the medical field.

She became a nurse and began working in the pediatric unit of a big hospital. Her job allowed her to quietly share her faith with hurting families. Sometimes, a parent would ask her to pray with them. Sometimes, she'd walk the halls whispering prayers over each family in the rooms.

But after several years on the job, Renee began feeling burned out. She had seen many children go on to make full recoveries and lead beautiful lives. But some of the children didn't. Some of them grew worse and eventually passed away.

Renee struggled with these feelings. She'd felt called to serve families in this way so she didn't understand what was happening. She asked the pastor of a local church why she was struggling.

"There's a condition called compassion fatigue. It's common for people who are gifted with mercy or are highly empathetic." The pastor continued, "I tell my staff and others in caring professions to schedule time away. This is what Jesus often did in the New Testament. After feeding five thousand, he withdrew to the mountains. If Jesus needed space to process and decompress, so do we."


God, I love serving others. I love pouring into them. But I also need the space and grace to deal with my own feelings. Help me to set aside time to retreat and pray. Show me when I need to set firm boundaries to guard my own heart. In Jesus' name, Amen.  
The Devotional Titles:
Carried to Jesus
A Firm Place to Stand
Never Alone
Peace in the Midst of Loss
When the Unexpected Happens
Mourning the Loss of a Pet
Dwelling Place
Holy Delays
When You Face Discouragement
 Difficult Family Relationships
 Friendly Influences
 Exposing the Darkness
 Grace in the Middle
 The Sting of Betrayal
 He Cares for You
 Getting Real: Confession Time
 When You Face Injustice
 Showing Up to Serve
 With You Always
 Healing the Broken
 The Desperate Father
 Detours in the Journey
 An Undivided Heart
 The Older Brother
 Broken Vessels
 Wrestling with God
 Out of Darkness
 Be the Lighthouse
 One Match
 In the Darkness
These devotions are a wonderful addition to your faith based content plans.  Use them to encourage others and spread God's Love, Grace & Mercy far and wide!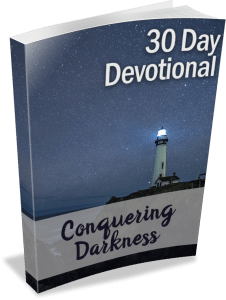 Pay $14.97 Now