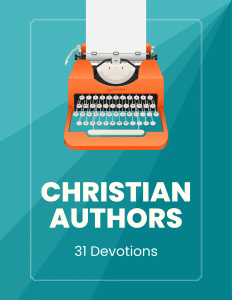 Introducing a 30 Day Devotional Set Christian Authors.
If you minister to authors and those who want to be one, you know how much they value spending time with God and a sweetly inviting daily devotion is perfect for that.
Perfectly Prepared For Ministry Outreach!
Whether you want to use these devotions to serve the people you already know – or share them for ministry outreach, we're thrilled to know we're saving you time and supporting your mission to love on others.
With full rights to edit as you wish, you can be as creative as you like!
Are you unfamiliar with done-for-you content? Learn more here.
Devotions Are A Minimum of 210 Words Each
8,550 Total Word Count (Editable Word Document)
Social Friendly Prayer Images (JPG & Editable PSD Files)
Example Devotional From This Set:
Be Coachable

Scripture:

Listen to advice and accept discipline, and at the end you will be counted among the wise. -Proverbs 19:20 NIV

Encouragement:

Excited about the progress she was making on her manuscript, Tara shared the first two chapters with two of her friends for feedback. She also shared her manuscript with a colleague who'd recently published her fifth book. Tara's friends gave her rave reviews and told Tara they couldn't wait to read the rest. Tara's colleague sent a lengthy email that started, "This needs work." Attached to the email was a red-lined version of Tara's manuscript with comments on almost every line.

Tara spent two weeks in anguish over the email. She just couldn't let it go. Every time she sat down to write more of her book, "this needs work" popped into her mind.

One day, her husband asked how the book was coming along. Tara told him she didn't think her book was going to work. She showed him the email from her colleague.

"This is good advice," Tara's husband said. "It looks like she really took the time to point you in the right direction."

Tara's husband encouraged her to call her colleague and discuss the comments. "With her help, your book will be amazing."

Receiving critical feedback on our writing can be hard to take. However, constructive criticism often comes with valuable lessons. When we put our egos aside long enough to uncover the lesson and allow it to teach us something, the criticism can be a valuable gift.

Prayer:

Dear God, thank You for the people You place in my path as guides to help me follow the plans You have for my life. In Jesus' Name, Amen.
The Devotional Titles:
Against the Odds
Be Coachable
Believe
Bitter or Better?
Clear Vision
Delayed Dreams
Don't Underestimate What God Can Do
Faith in Action
From Pain to Purpose
God Pleaser
God Qualified
Good Soil
Great Assurance
Have Fun
He Cares
Help
Ignore Them
It's Possible
Moving Past Doubt
Not a Copy
One Step At A Time
Possess God's Promise
Power
Pre-Approved
Share the Whole Story
Shine On!
Stop the Comparison
The Time Is Right
Turn On Your Light
Use Your Talents
Who Am I?
Social Friendly Prayer Images!
Each of the devotions has a prayer included and we've turned them into beautiful images you can use in a variety of places. With the included Photoshop files you can add your own branding if you wish – or use the JPGs as is.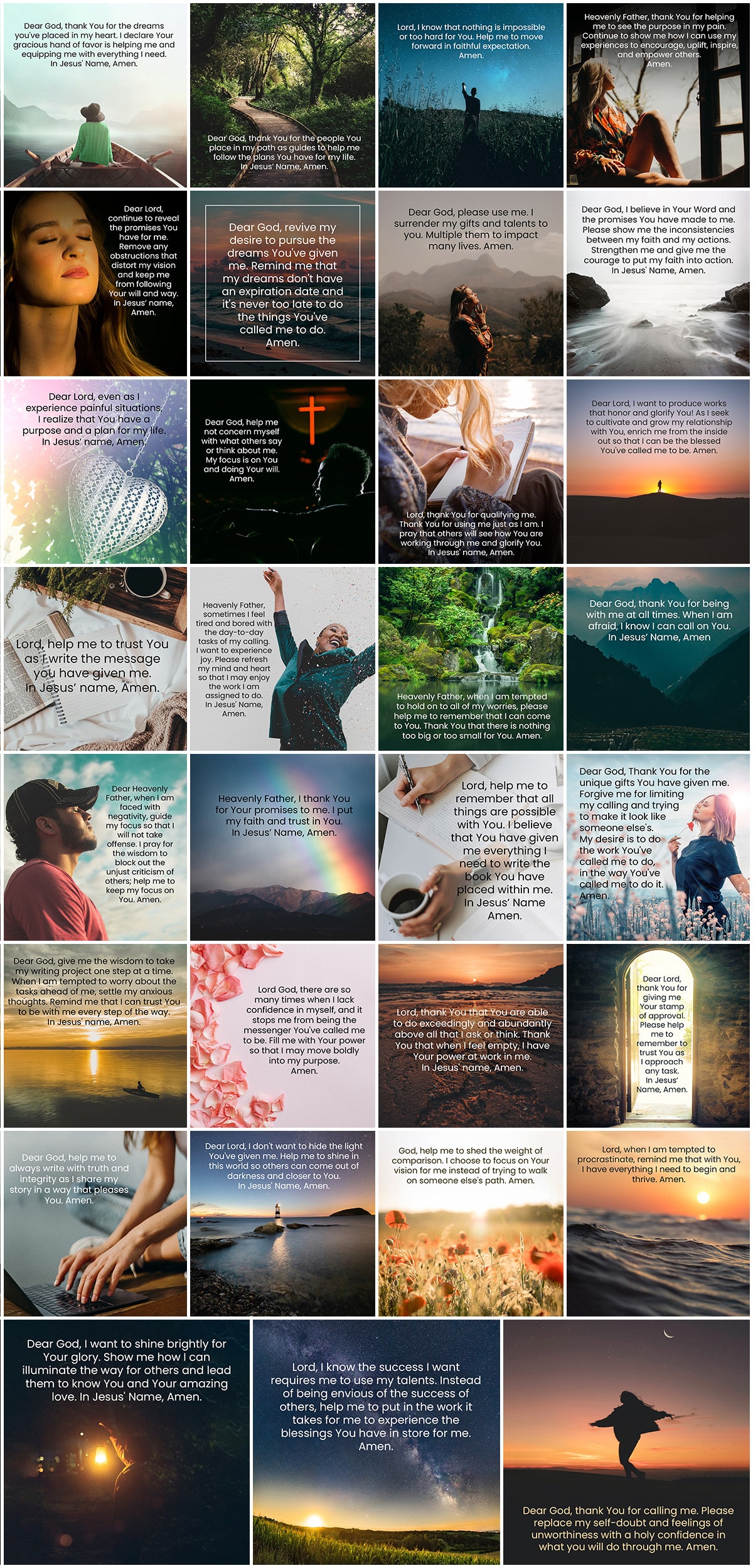 These devotions are a wonderful addition to your faith based content plans.  Use them to encourage others and spread God's Love, Grace & Mercy far and wide!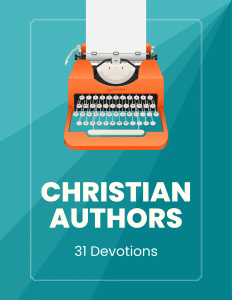 Pay $29.00 Now

Say Yes To Our New Canva Templates Upgrade Option – Only $19 More!
We've taken the complete set of devotions and moved them into a beautifully designed Canva Template – saving you hours of administrative and design time! Check out how wonderful it looks all set up for you, ready to customize in your own Canva account when ready!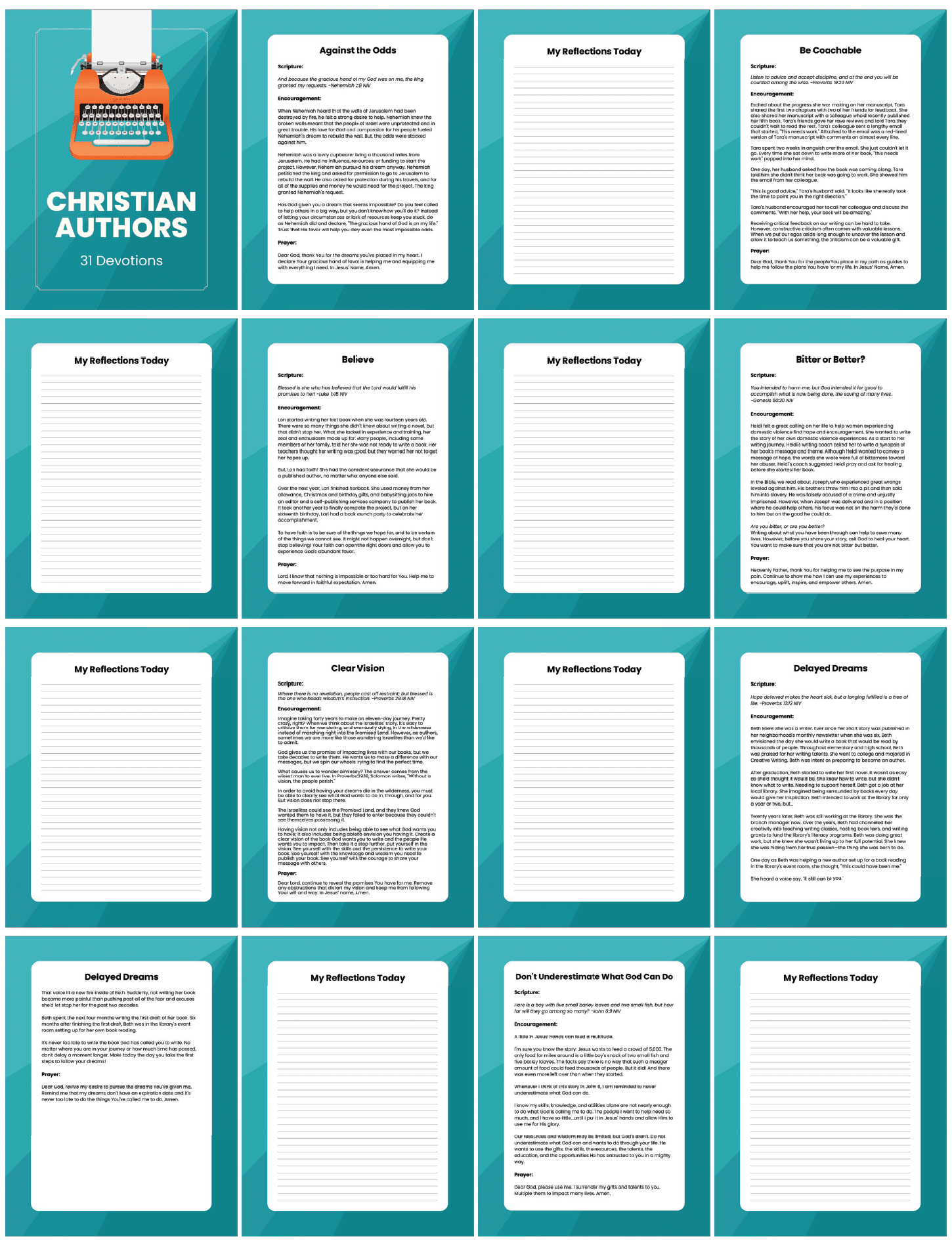 With our Canva Template you are minutes away from adding your own content, whether you want to have a page about you or a closing call to action, it's so easy to duplicate a page and create exactly what you want.

What Can You Do With Our Done-For-You Content?
Create encouraging blog posts that support your community.
Create ministry branded ebooks to dig deeper on important topics.
Share prayer and journal prompts to support others as they grow in faith.
Offer ministry branded scripture memory tools to tuck more of God's Word into hearts and minds.
Share more encouraging messages and inspiring images on social media.
Add Biblically based content to email newsletters, saving so much time!
Offer a daily devotional by email or texts.
Run a devotional Facebook Group and create a warm space for spiritual growth.
Record the content as spoken word podcasts and reach more people on audio platforms.
Record the content in videos and expand your ministry presence on YouTube.
Add more meaningful content to the weekly church bulletin.
Support Pastor's desire to stay in touch and uplift their church family with regular messages.
Offer self-paced bible study resources or run a group bible study.
You can leverage these resources to mentor/disciple one on one.
Any of these ministry tools can be published as inspiring printables.
Create beautiful and inspiring ministry merchandise.
Our 7 Day Easy Guarantee
We stand behind our products with a 100% satisfaction guarantee. You may request a refund on any product you purchase at Daily Faith within seven days of purchase and it will be given without delay or question.