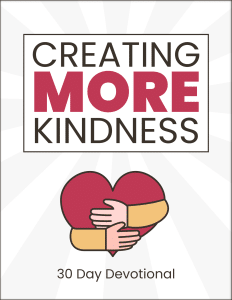 Introducing a new 30 Day Devotional: Creating More Kindness
We all need more kindness and compassion in our lives and the world. When each of us starts being the change we want to see in the world, we will see it spread like wildfire. This devotional is handy for spending time in God's word and reflecting on a sweetly inviting daily devotion.
Perfectly Prepared For Ministry Outreach!
Whether you want to use these devotions to serve the people you already know – or share them for ministry outreach, we're thrilled to know we're saving you time and supporting your mission to love on others.
With full rights to edit as you wish, you can be as creative as you like!
Are you unfamiliar with done-for-you content? Learn more here.
Devotions Are A Minimum of 250 Words Each
10,924 Total Word Count (Editable Word Document)
Social Friendly Prayer Images (Canva Template)
Example Devotional From This Set:
Kindness as a Way of Worshiping God

Scripture:

"The King will reply, 'Truly I tell you, whatever you did for one of the least of these brothers and sisters of mine, you did for me.' -Matthew 25:40

Encouragement:

When we think of worship, our minds tend to turn to singing and praising God in church. But Matthew 25:34-40 teaches us that kindness is one of the most powerful forms of worship we can offer to God.

In this passage, Jesus tells a parable about the importance of caring for others. He says that when we feed the hungry, give drink to the thirsty, invite in strangers, clothe the naked, care for the sick, and visit those in prison, we are actually doing it for Him.

Think about that for a moment. When we show kindness to others, we are not just making their day a little brighter. We are truly offering worship to our great God.

So how can we make kindness a part of our worship? One way is by seeking out opportunities to help others. For example, we can volunteer at a food bank or homeless shelter, or simply be a listening ear for a friend in need.

But we can also make kindness a part of our everyday lives. We can choose to smile at strangers, help carry groceries, or simply hold the door open for someone. These small acts of kindness may seem insignificant, but they can have a profound impact on the lives of others.

Prayer:

Dear God, thank You for showing me that kindness is a form of worship. Help me see the opportunities You place before me to help others and to offer kindness to those around me — not just in the big moments but in the small everyday encounters. Give me the courage to love, to serve, to give, and to do all things in Your Name, for Your glory. Amen.
The Devotional Titles:
The Power of Kindness
Showing Kindness to Our Neighbors
Being Kind to Ourselves
Kindness in the Workplace
Kindness as a Fruit of the Spirit
Kindness as a Way of Worshiping God
Kindness Through Service
Being Kind to Strangers
Kindness as a Reflection of God's Grace
The Power of Kind Words
Kindness When We Disagree
Responding with Kindness to Criticism
Kindness in the Face of Conflict
The Art of Listening
The Joy of Giving
Kindness Opens the Door to Opportunity
Kindness to Those Who Are Different from Us
Small Acts of Kindness
The Unexpected Gift of Kindness
Kindness in the Midst of Suffering
Kindness Through Forgiveness
Living a Life of Kindness
The Power of Kind Thoughts
A Ripple of Kindness
Kindness is a Generous Gift
Seeing the Good in Others
Kindness Through Encouragement
Kindness to Those Who Need It Most
Being Kind to the Poor
Showing Kindness Through Sacrifice
Social Friendly Prayer Images!
Each of the devotions has a prayer included and we've turned them into beautiful images you can use in a variety of places. With the included Canva Template file link you can easily make any changes and add your own branding if you wish – or use the PNG images as is.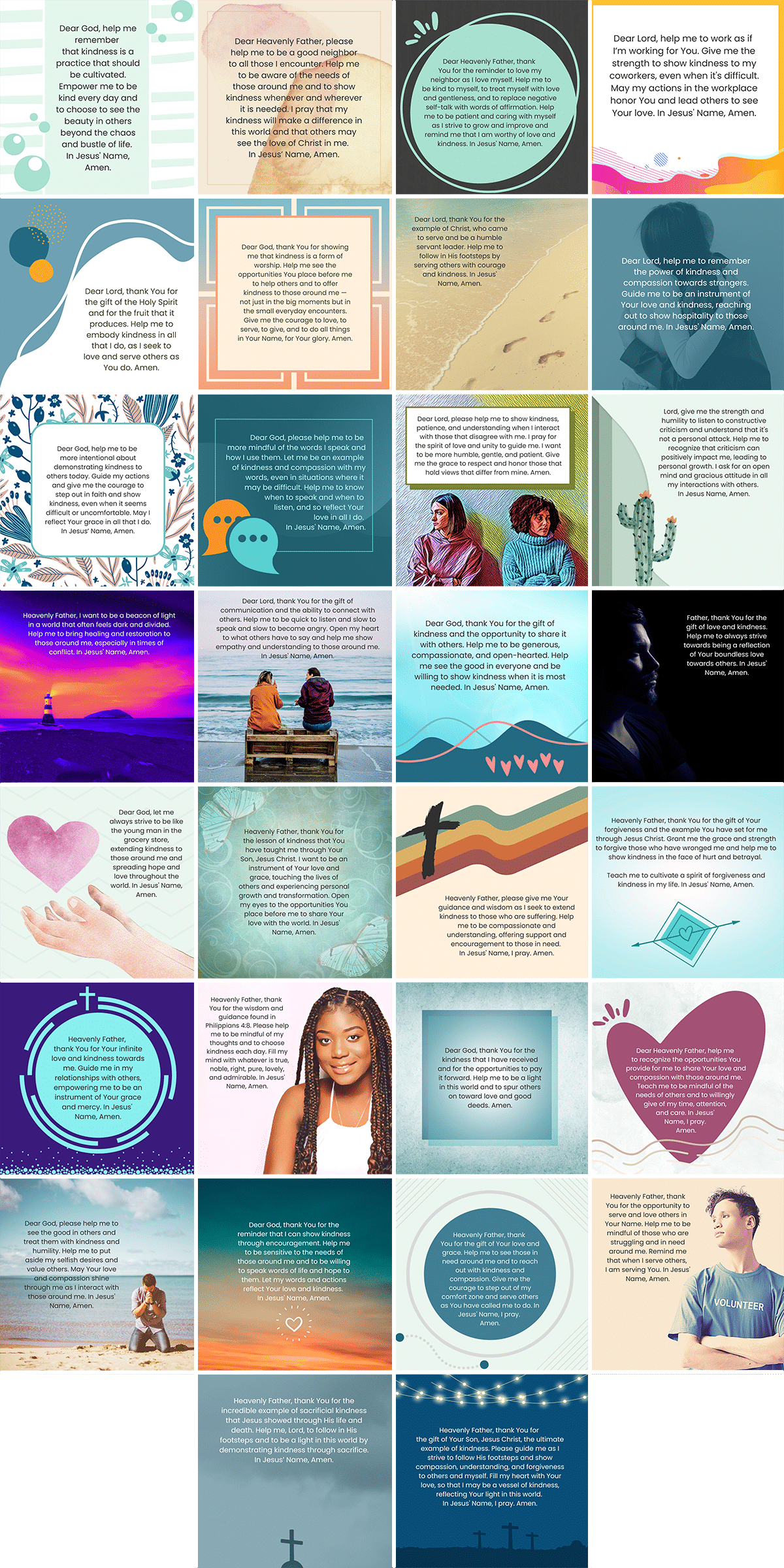 These devotions are a wonderful addition to your faith based content plans.  Use them to encourage others and spread God's Love, Grace & Mercy far and wide!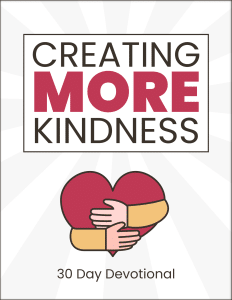 Pay $29.00 Now

Say Yes To Our New Canva Templates Upgrade Option – Only $19 More!
We've taken the complete set of devotions and moved them into a beautifully designed Canva Template – saving you hours of administrative and design time! Check out how wonderful it looks all set up for you, ready to customize in your own Canva account when ready!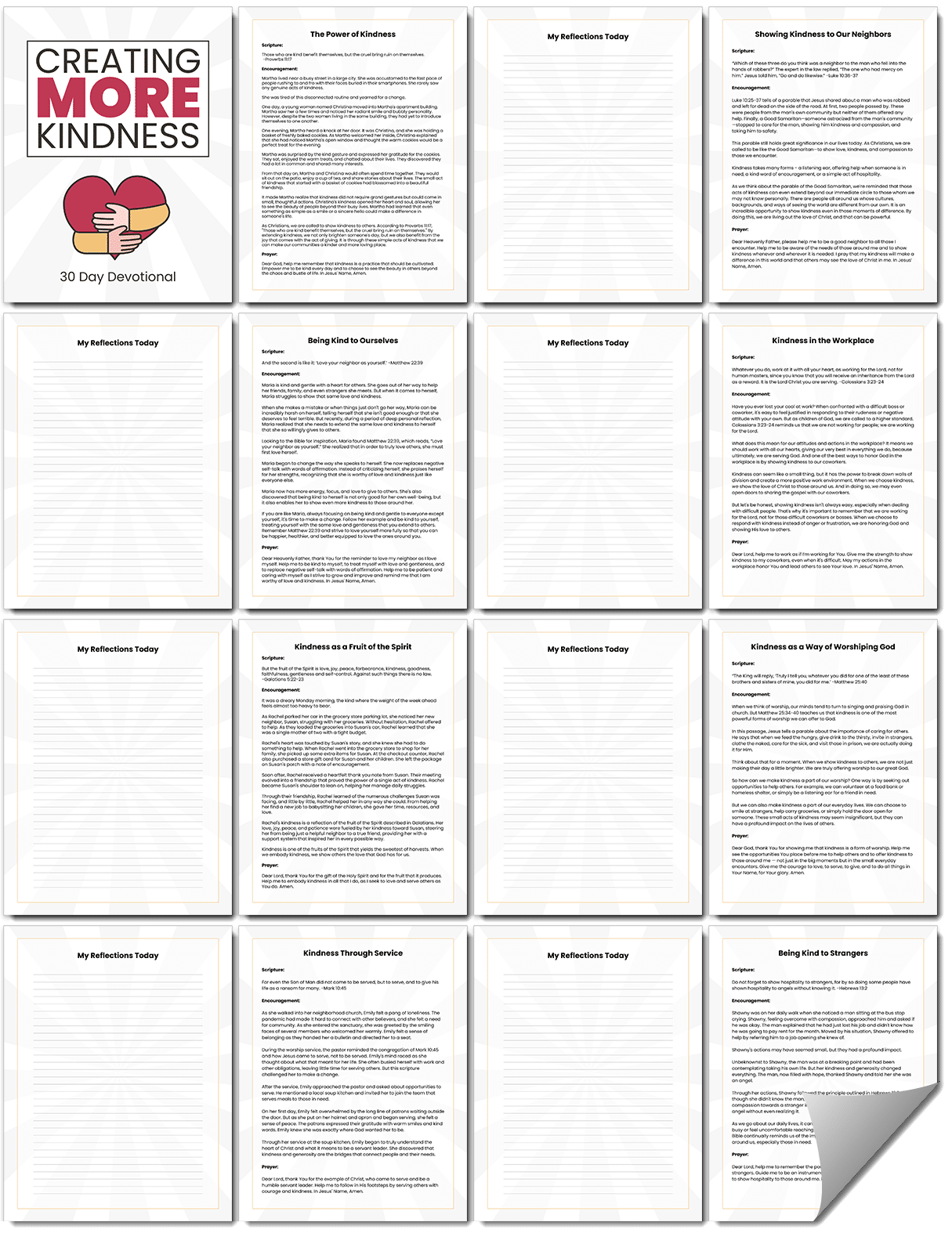 With our Canva Template you are minutes away from adding your own content, whether you want to have a page about you or a closing call to action, it's so easy to duplicate a page and create exactly what you want.

What Can You Do With Our Done-For-You Content?
Create encouraging blog posts that support your community.
Create ministry branded ebooks to dig deeper on important topics.
Share prayer and journal prompts to support others as they grow in faith.
Offer ministry branded scripture memory tools to tuck more of God's Word into hearts and minds.
Share more encouraging messages and inspiring images on social media.
Add Biblically based content to email newsletters, saving so much time!
Offer a daily devotional by email or texts.
Run a devotional Facebook Group and create a warm space for spiritual growth.
Record the content as spoken word podcasts and reach more people on audio platforms.
Record the content in videos and expand your ministry presence on YouTube.
Add more meaningful content to the weekly church bulletin.
Support Pastor's desire to stay in touch and uplift their church family with regular messages.
Offer self-paced bible study resources or run a group bible study.
You can leverage these resources to mentor/disciple one on one.
Any of these ministry tools can be published as inspiring printables.
Create beautiful and inspiring ministry merchandise.
Our 7 Day Easy Guarantee
We stand behind our products with a 100% satisfaction guarantee. You may request a refund on any product you purchase at Daily Faith within seven days of purchase and it will be given without delay or question.
Pay $29.00 Now

Or Say Yes To Our New Canva Templates Upgrade Option – Only $19 More!