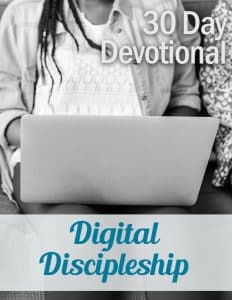 Introducing Private Label Rights to a 30 Day Themed Devotional Set About Digital Discipleship.
Use them on your blog, in an email sequence or offer the entire set as a download.
With full rights to edit as you wish, you can be as creative as you like!
Are you unfamiliar with PLR? Learn more here.
Devotions Are A Minimum of 225 Words Each
7480 Total Word Count (Editable Word Document)
Daily Checklist with that day's Bible verse so you can check off each day (Editable Word Document)
Social Friendly Title Images Provided (JPG & Editable PSD Files)
Example Devotional From This Set:
For The Glory

"So whether you eat or drink or whatever you do, do it all for the glory of God." – 1 Corinthians 10:31, NIV  

Elizabeth was passionate about writing. She loved creating characters and writing novels. After she had several books published, she started a Facebook group to teach other writers. She loved spending time with them and "talking shop". She mentored and encouraged dozens of writers. She was quick to offer feedback and help others.

When she was seriously injured in a car accident, many of the writers she'd mentored reached out to her. One writer shared that she'd always been inspired by Elizabeth's faith and her trust in God.

At first, Elizabeth was confused. She couldn't ever remember talking directly about her faith or telling others she was a Christian. But the other writer explained that Elizabeth's faith was often apparent in their conversations.

Whether you realize it or not, you do share what you believe when you're on social media. It comes across in the comments you leave, the pictures you upload, and the videos you broadcast.

Like Elizabeth, you may never know the true impact that your faith has on those who are watching you. So remember when you log into social media accounts, to post everything for the glory of God.


Father, help me to be kind online. Remind that others are listening and watching even if I don't always think about. Let me always honor You with the content I post. In Jesus' name, Amen.  
The Devotional Titles:
Local Love
He Hears Us
Sharing Your Light
Embracing Social Community
Encourage Each Other
Meeting Together
Online Disciples
Build Up One Another
Tweet It Out
Internet Evangelism
Comfort & Encouragement
Share Your Testimony
Are You OK?
Finding Freedom
Whatever You Do
Love Abroad
Go to That Chariot
Forgive the Trolls
What to Share
Love On Your Community
Love Covers
Word of the Day
For the Glory
The Social Media Connection
Social Boundaries
What's My Goal?
Who Are You Following?
No Good Thing
Digital Reunion
Social Media Pastor
These devotions are a wonderful addition to your faith based content plans.  Use them to encourage others and spread God's Love, Grace & Mercy far and wide!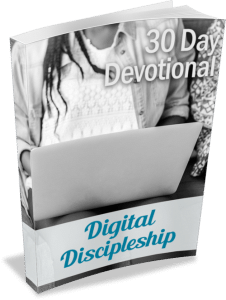 Pay $14.97 Now