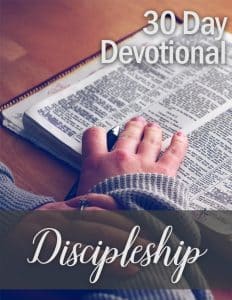 Introducing Private Label Rights to a 30 Day Themed Devotional Set About Discipleship.
Use them on your blog, in an email sequence or offer the entire set as a download.
With full rights to edit as you wish, you can be as creative as you like!
Are you unfamiliar with PLR? Learn more here.
Devotions Are A Minimum of 225 Words Each
8775 Total Word Count (Editable Word Document)
Daily Checklist with that day's Bible verse so you can check off each day (Editable Word Document)
Social Friendly Title Images Provided (JPG & Editable PSD Files)
Example Devotional From This Set:
What Discipleship Means

Then James and John, the sons of Zebedee, came to him. "Teacher," they said, "we want you to do for us whatever we ask." – Mark 10:35, NIV  

Jesus has just finished predicting his death again. He's gone into detail with His disciples about the awful things that are about to come to pass. He's warned them, done his best to prepare them. 

After he's done talking, James and John pull Jesus aside quietly. They make a request to be front and center next to Jesus when His glory comes. Their request is proof these two disciples missed the message entirely. They want power. They want glory. They want prestige.   

Can you relate? When someone is unjust to you, do you shake your fist with rage and wish you were powerful enough to stand up to that bully? When you get overlooked, do you long to be the smartest or most beautiful person in the room? 

The truth is we've all had those moments. But as Jesus explained, His Kingdom was upside down. In it, discipleship is really another word for denial of self. It's becoming less so that God can shine even brighter.  

Oh, Father, sometimes ego gets in the way of Your plans for me. I start thinking about power and prestige. I get caught up in all of the trappings of the world. Restore my focus to You. Let me remember that discipleship is really about servanthood. I want Your name to receive all glory and honor. In Jesus' name, Amen. 
The Devotional Titles:
My House Is Your House
Reminders of God's Faithfulness
Let Down the Nets
Embracing Community to Lead
Faith through the Storm
A Double Portion
Farming Your Seeds
Chosen
What Discipleship Means
Are You People Driven?
Stepping Out in Faith
You Are Seen
Breaking Bread Together
Embracing the Present
Two by Two
Faithfully Waiting
When Friends Betray You
Ordinary People
The Back of the Boat
Celebrating Children
Mentor for a Season
Letters of Love
Angel in Disguise
Disciples as Servants
The Great Commission
Preparing Apollos
A Loving Mentor
Wisdom from Spiritual Leaders
Guarding Your Tongue
Bearing Fruit
These devotions are a wonderful addition to your faith based content plans.  Use them to encourage others and spread God's Love, Grace & Mercy far and wide!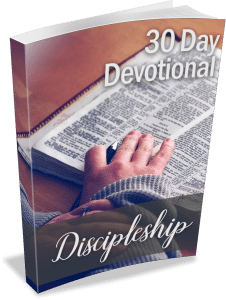 Pay $14.97 Now