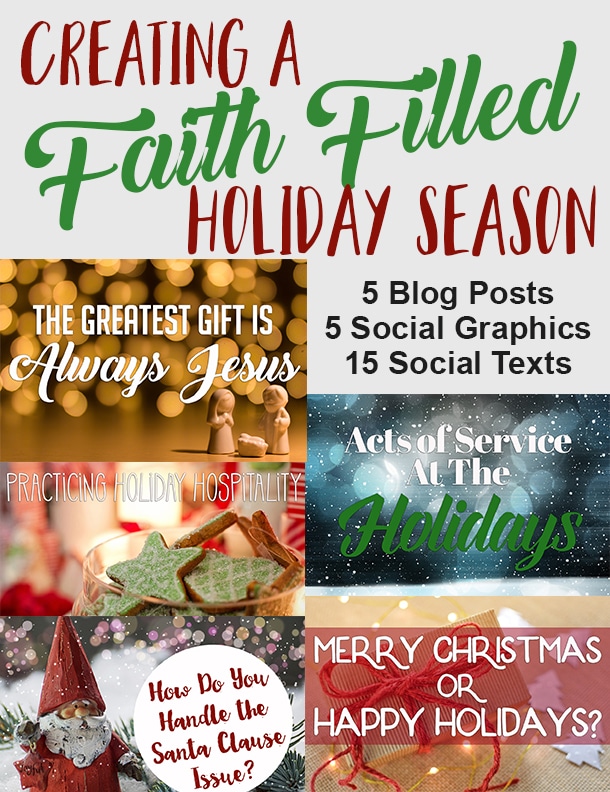 Introducing a done-for-you ministry resource! A 5 Blog Post Package with Social Graphics & Texts!
"Creating a Faith Filled Holiday Season"
You're going to enjoy using these articles on your blog, as starter fuel for a podcast or livestream – maybe even as a five part email series.
With full rights to edit as you wish, you can be as creative as you like!
Are you unfamiliar with done-for-your content? Learn more here.
5 Articles (Editable Word Documents)
5 Images (JPG & Editable PSD Files)
15 Social Media Blurbs (3 for each article)
The Article Titles:
We Wish You a Merry Christmas
Acts of Service at The Holidays
How Do You Handle the Issue of Santa Claus?
The Greatest Gift Is Jesus
Opportunities to Love on Others Through Hospitality
A quote from "Opportunities to Love on Others Through Hospitality"
The Holidays can be a stressful time for many. It's easy to get caught up in the hustle and bustle of family get togethers, church functions, work parties, and the shopping, wrapping, and everything else this time of year distracts us with. We can very easily lose sight of what's important – letting God's light shine through us. We can start within our own families, but we can also love on others around us that aren't a part of our families too. The Bible even gives us a command to love one another:

"A new command I give you: Love one another. As I have loved you, so you must love one another. By this everyone will know that you are my disciples, if you love one another."  –John 13: 34-35

Here are some ideas of how to show the love of Jesus while loving on others this Holiday season.
The Social Graphics:
(Actual Size = 1280 x 849px)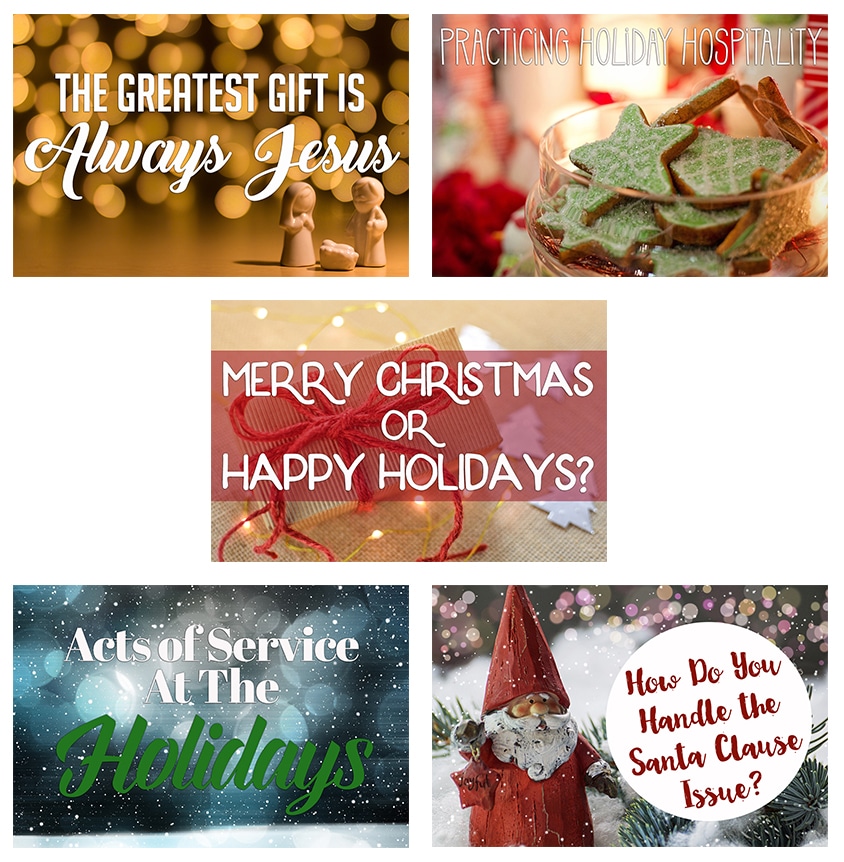 These articles are a wonderful addition to your faith based content plans.  Use them to encourage others this Holiday season that honors their faith in every way!
Pay $14.97 Now