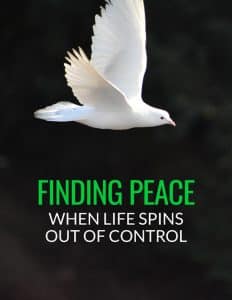 Introducing Private Label Rights to a Report Finding Peace When Life Spins Out of Control.
Before leaving this earth, Jesus told his followers, "I have told you these things, so that in me you may have peace. In this world you will have trouble. But take heart! I have overcome the world." John 16:33
Jesus reassured his disciples that they would have trouble. Not that they might have trouble or could have trouble. He said that trouble was a 100% guarantee as a result of living in a fallen world.
But he didn't stop there. Jesus also made a promise: you can have peace.
You can have peace because he has already overcome the world. This is a victory that he freely offers to all of his followers.
Use this content on your blog as a set of articles, in an email sequence or offer the Report as a download gift for new subscribers.
Topics included:
3 Hard Truths about Peace
Know the Difference Between Chaos & Toxic Environments
Soothe Yourself with Calming Activities
Find Peace by Embracing Your Community
The Peace from Presence
With full rights to edit as you wish, you can be as creative as you like!
Are you unfamiliar with PLR? Learn more here.
2,885 Total Word Count – Report (Editable Word Document)
1,922 Total Word Count – 7-Day Devotional Journal (Editable Word Document)
eCover Images Provided (JPG & Editable PSD Files)
Peek at the Content:
Report: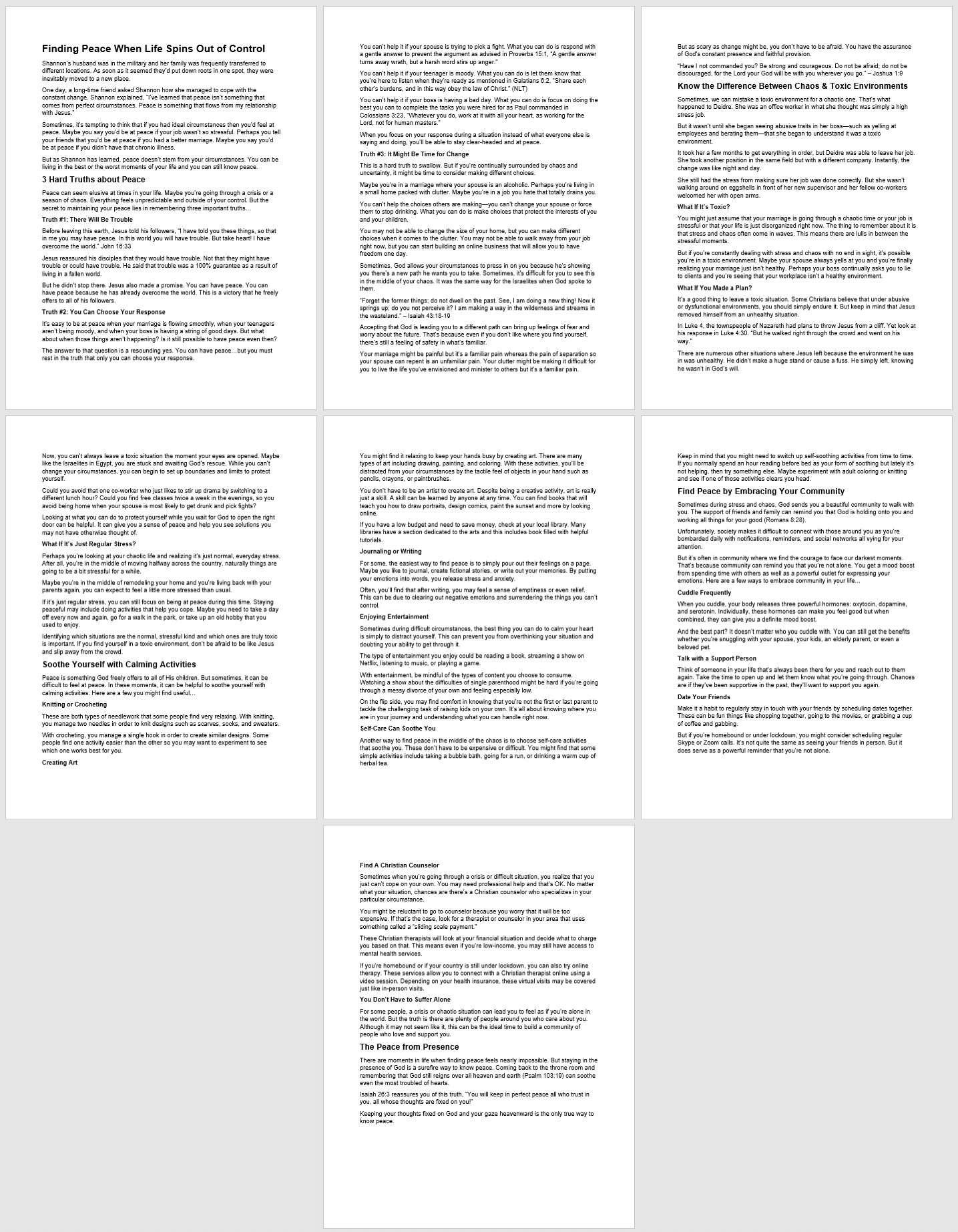 7-Day Devotional Journal: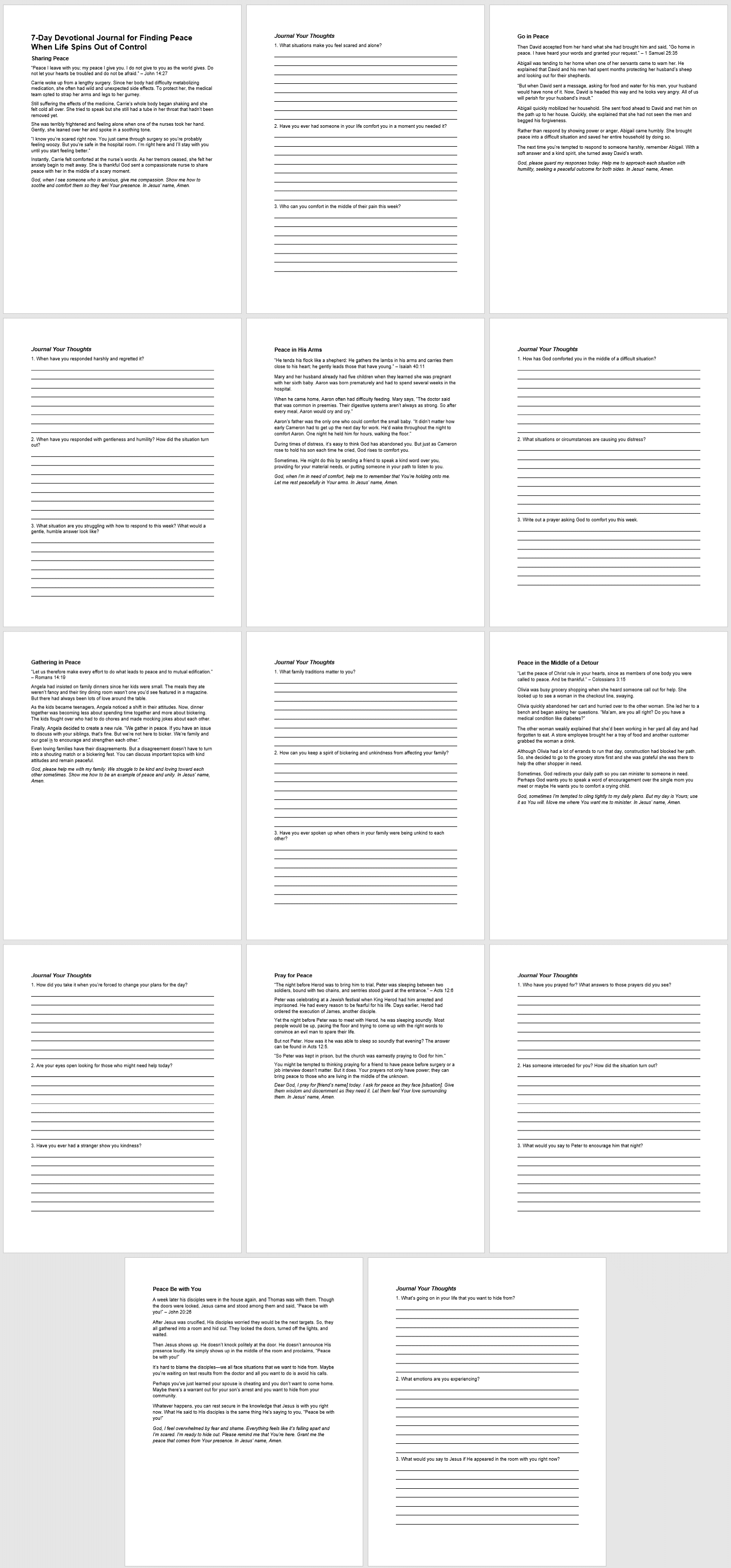 Example Excerpt:
Find Peace by Embracing Your Community
Sometimes during stress and chaos, God sends you a beautiful community to walk with you. The support of friends and family can remind you that God is holding onto you and working all things for your good (Romans 8:28).
Unfortunately, society makes it difficult to connect with those around you as you're bombarded daily with notifications, reminders, and social networks all vying for your attention.
But it's often in community where we find the courage to face our darkest moments. That's because community can remind you that you're not alone. You get a mood boost from spending time with others as well as a powerful outlet for expressing your emotions. Here are a few ways to embrace community in your life…
This mini report is a wonderful addition to your faith based content plans.  Use them to encourage others and spread God's Love, Grace & Mercy far and wide!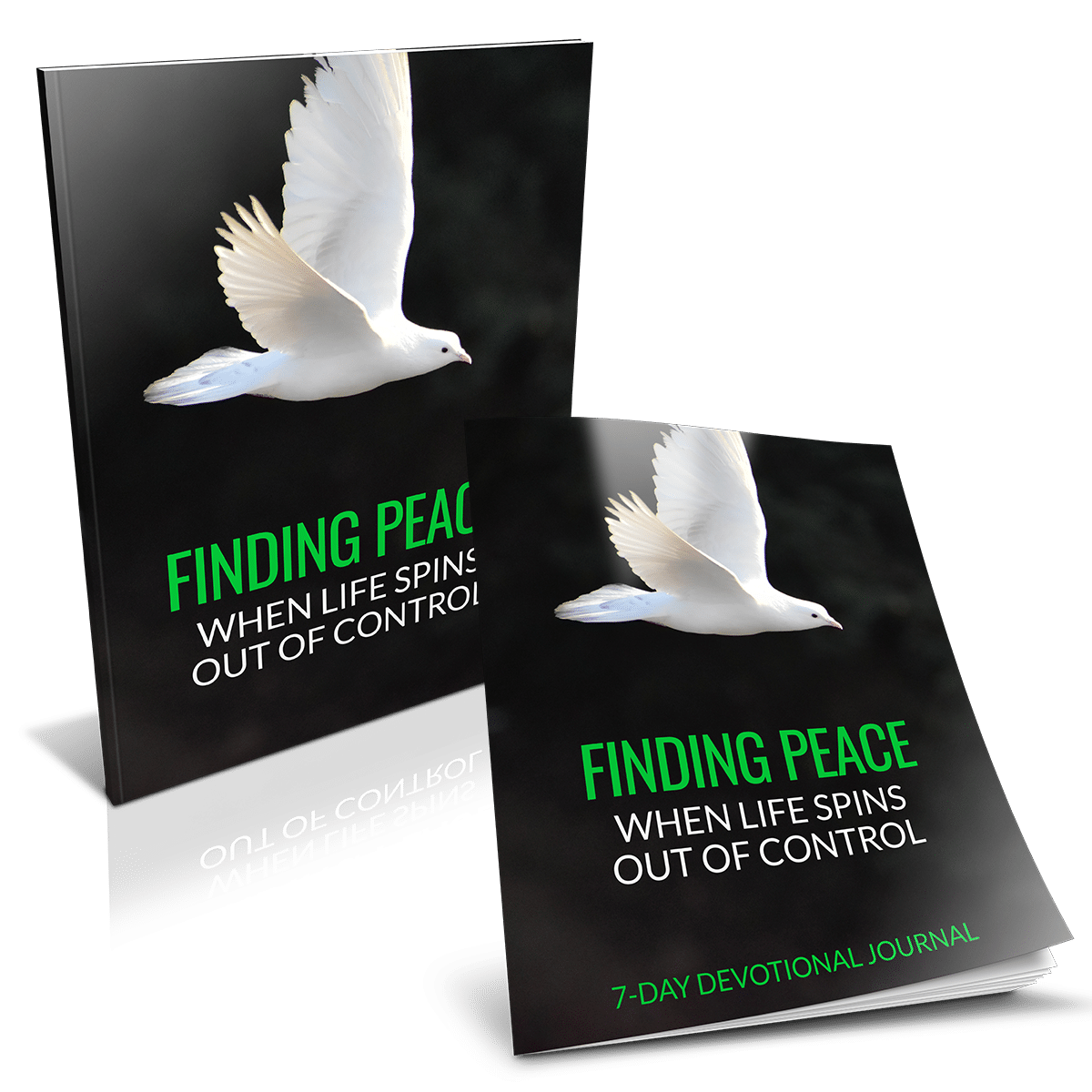 Only $19.97!