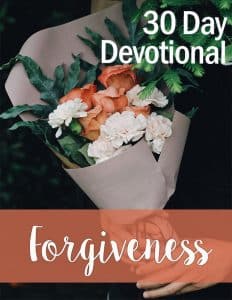 Introducing Private Label Rights to a 30 Day Themed Devotional Set About Forgiveness.
Use them on your blog, in an email sequence or offer the entire set as a download.
With full rights to edit as you wish, you can be as creative as you like!
Are you unfamiliar with PLR? Learn more here.
Devotions Are A Minimum of 225 Words Each
8976 Total Word Count (Editable Word Document)
Social Friendly Title Images Provided (JPG & Editable PSD Files)
Example Devotional From This Set:
A Heavy Load

"Therefore, if you are offering your gift at the altar and there remember that your brother or sister has something against you, leave your gift there in front of the altar. First go and be reconciled to them; then come and offer your gift." – Matthew 5:23-24, NIV

A seminary professor had a habit of starting each new semester the same way. He would pass out a bag to each of his students. At the front of the room, he had a large bin filled with hundreds of baseballs.

He would invite all of his students to come to the front of the classroom. Then he would hand out markers. He instructed each student to write down every wrong they'd ever suffered.

When they were finished writing, they would put the baseball into their bag. After they were finished, the professor looked at the class, "Now, I want you to carry these bags everywhere you go until our next class. You take everywhere, from your dorm to the cafeteria to your job. Keep it with you always."

A week later, many of his students arrived with their bags. The professor pointed to a young man in the first row. "Tell us about your week…how do you feel?"

The young man sighed, "Tired. Lugging that thing around was exhausting. My neck ached from it." 

The professor nodded, "That heavy bag represents unforgiveness. Every time, you hold onto a wrong, you add weight to your bag, and it's a weight that God didn't intend for you to carry."  

God, help me to put down the load I've been carrying. I don't want to hold onto unforgiveness. Show me how to release this burden so I can walk in freedom and healing. In Jesus' name, Amen.
The Devotional Titles:
Choosing Compassion
Love Is Kind to You
Facing Grief
Build a Bridge
A Heavy Load
Finding Freedom from Hate
The Healing Power of Forgiveness
Who Is This Man?
Redeeming Failures
The Love Itself
Welcome Home
Loving Boundaries
Carried to Jesus
The First Martyr
The Cost of a Cover-Up
Love Covers All
A Beautiful Legacy
Completely Faithful
From Death to Life
Healing from Deep Wounds
Show Mercy
The Chance to Get Even
Welcome to the Table
Brotherly Love
Do You Love BIG?
Should You Announce Your Forgiveness?
Eva's Grandson
Blessed Are the Merciful
Embrace Grace
In the Middle of Injustice
These devotions are a wonderful addition to your faith based content plans.  Use them to encourage others and spread God's Love, Grace & Mercy far and wide!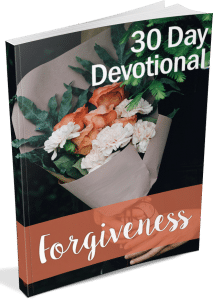 Pay $14.97 Now