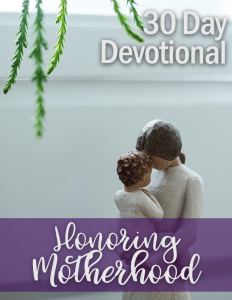 Introducing a done-for-you Ministry Tool: A 30 Day Themed Devotional Set About Honoring Motherhood.
Perfectly Prepared For Ministry Outreach!
Whether you want to use these devotions to serve the people you already know – or share them for ministry outreach, we're thrilled to know we're saving you time and supporting your mission to love on others.
With full rights to edit as you wish, you can be as creative as you like!
Are you unfamiliar with done-for-you Ministry Tools?? Learn more here.
Devotions Are A Minimum of 225 Words Each
8195 Total Word Count (Editable Word Document)
Daily Checklist with that day's Bible verse so you can check off each day (Editable Word Document)
Social Friendly Prayer Images Provided (Easy CANVA Templates!)
Example Devotional From This Set:
The Next Generation

"You will become pregnant and have a son whose head is never to be touched by a razor because the boy is to be a Nazirite, dedicated to God from the womb. He will take the lead in delivering Israel from the hands of the Philistines." – Judges 13:5, NIV  

Jamie was pregnant with her first child. While she was excited for the birth, she was also scared. When Liz, an older woman from her church reached out to her, Jamie shared her fears.

"My mother was addicted to drugs and my father was in and out of prison for most of my childhood. I'm afraid that what happened in one generation will keep repeating in the next. How can I raise a child when I've never had a good example of how to do it?" 

Liz shared the story of Samson's mother. "An angel visited Manoah's wife and told her she would become pregnant with a son who would later be called Samson." 

"When her husband, Manoah wanted to know how to raise the boy, the angel came to the couple and shared God's instructions again. God will give you wisdom and reveal how to parent your child if you only ask."

God, let me remember that the sins, mistakes, and problems with the previous generation don't have to be my child's story. Show me how to be a wise and loving parent, just like You are. In Jesus' name, Amen.
The Devotional Titles:
Defiant Mothers
A Difficult Pregnancy
Jochebed: A Mother of Faith
The Next Generation
A Shining Example
God's Favor
Daughters for a Season
The Mother Who Doubted
Discovering Her Identity
Faithful to God
The Mother who Pondered
Mother of Israel
Shaping the Heart
Purple Flowers
She Speaks with Wisdom
The Blessing of a Praying Mama
Love in Action
Rest for the Weary
Letting Go of What Others Think
A Quiet Season
Are You Building Your House?
Experiencing the Comfort of God
Sharing Her Faith
All Things
Shine like the Stars
Holding onto You
Wonderfully Made
Redemption in Progress
Keep Doing Good
Never Let Go
Social Friendly Prayer Images!
Each of the devotions has a prayer included and we've turned them into beautiful images you can use in a variety of places. With the included Photoshop files you can add your own branding if you wish – or use the JPGs as is.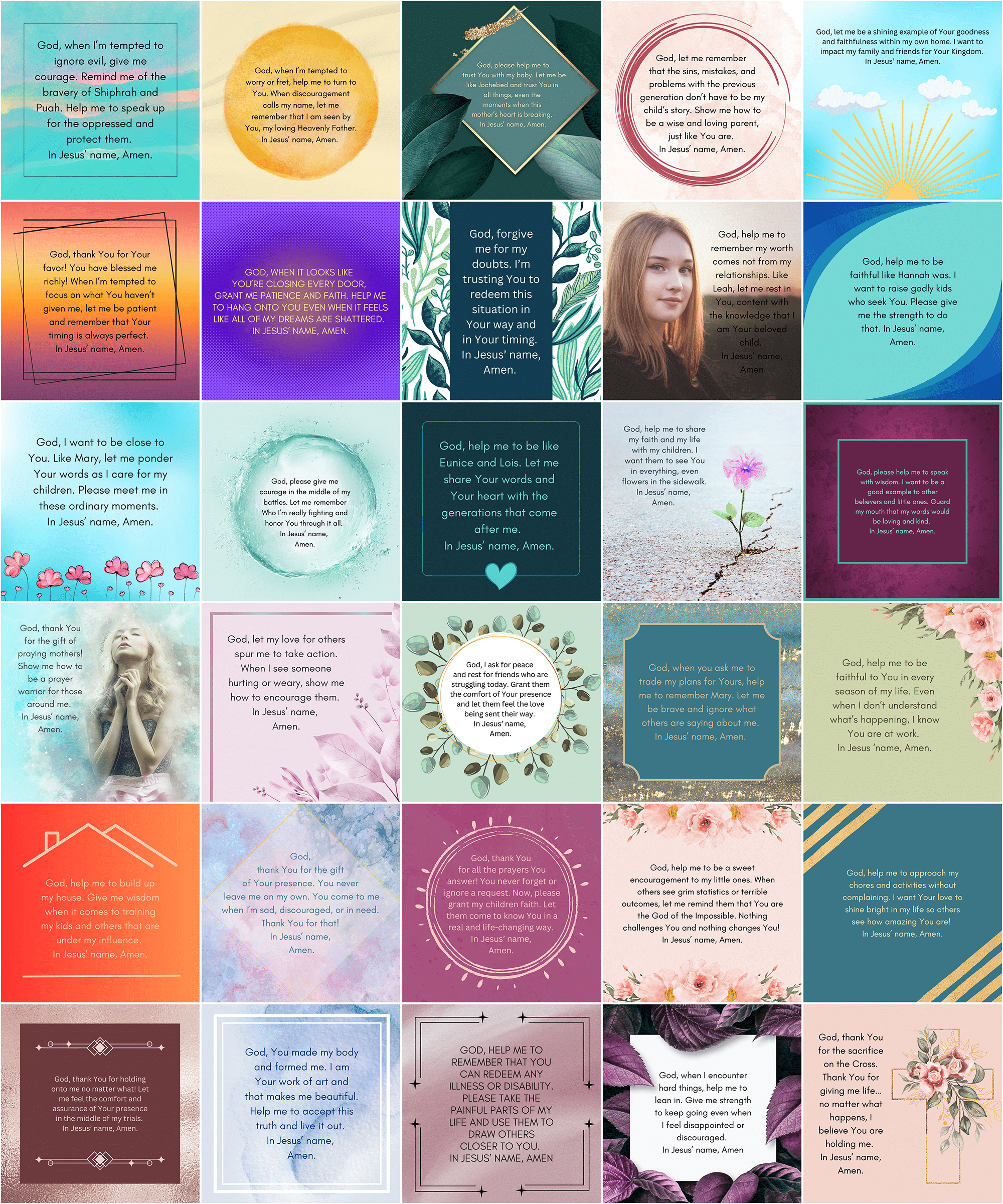 These devotions are a wonderful addition to your faith based content plans.  Use them to encourage others and spread God's Love, Grace & Mercy far and wide!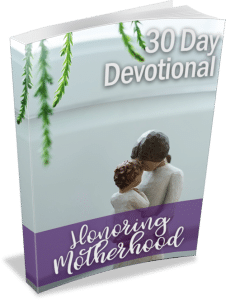 Pay $29 Now

Say Yes To Our New Canva Template Upgrade Option – Only $19 More!
We've taken the complete set of devotions and moved them into a beautifully designed Canva Template – saving you hours of administrative and design time! Check out how wonderful it looks all set up for you, ready to customize in your own Canva account when ready!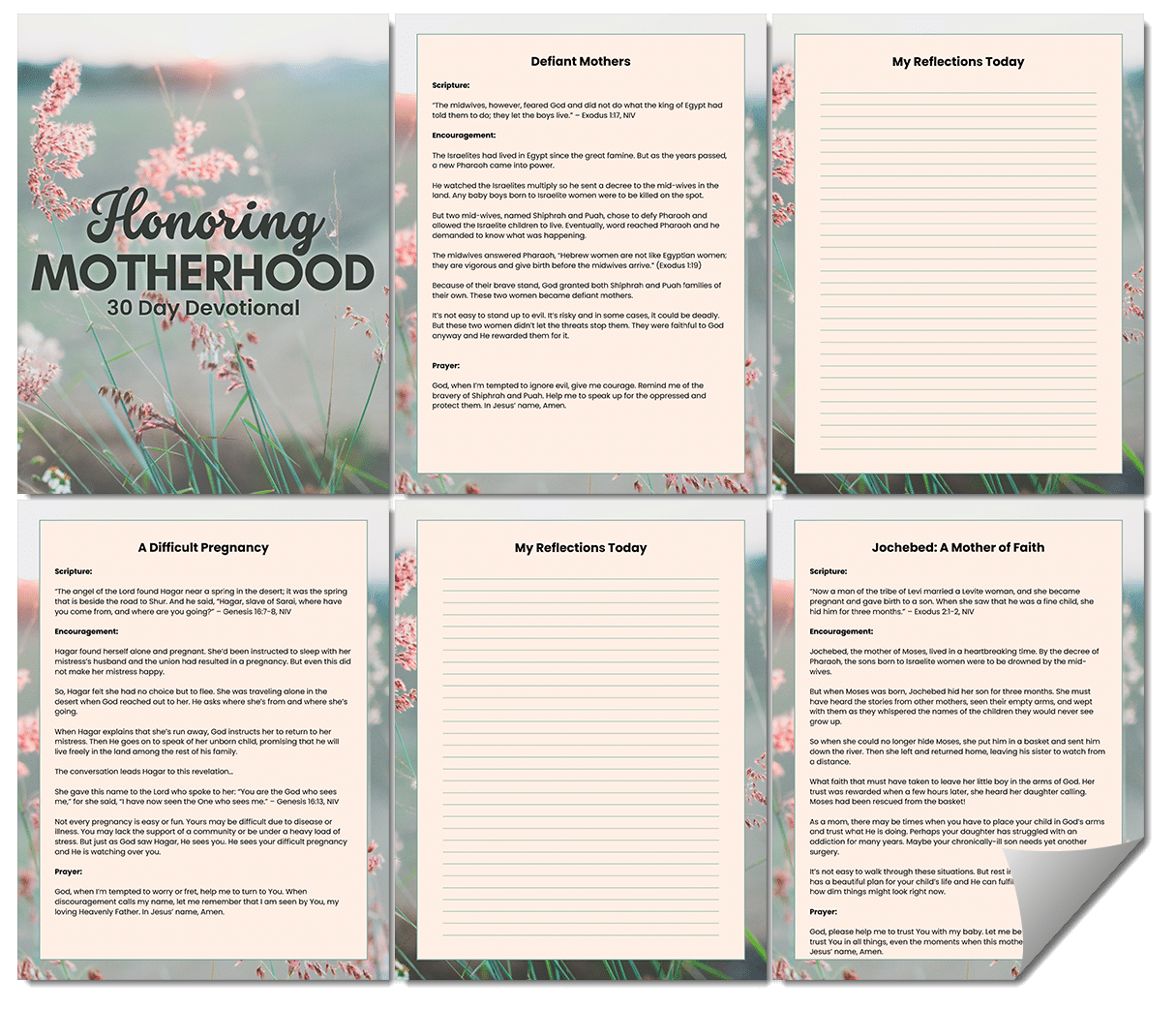 With our Canva Templates you are minutes away from adding your own content, whether you want to have an page about you or a closing call to action, it's so easy to duplicate a page and create exactly what you want.

What Can You Do With Our Done-For-You Content?
Create encouraging blog posts that support your community.
Create ministry branded ebooks to dig deeper on important topics.
Share prayer and journal prompts to support others as they grow in faith.
Offer ministry branded scripture memory tools to tuck more of God's Word into hearts and minds.
Share more encouraging messages and inspiring images on social media.
Add Biblically based content to email newsletters, saving so much time!
Offer a daily devotional by email or texts.
Run a devotional Facebook Group and create a warm space for spiritual growth.
Record the content as spoken word podcasts and reach more people on audio platforms.
Record the content in videos and expand your ministry presence on YouTube.
Add more meaningful content to the weekly church bulletin.
Support Pastor's desire to stay in touch and uplift their church family with regular messages.
Offer self-paced bible study resources or run a group bible study.
You can leverage these resources to mentor/disciple one on one.
Any of these ministry tools can be published as inspiring printables.
Create beautiful and inspiring ministry merchandise.
Our 7 Day Easy Guarantee
We stand behind our products with a 100% satisfaction guarantee. You may request a refund on any product you purchase at Daily Faith within seven days of purchase and it will be given without delay or question.