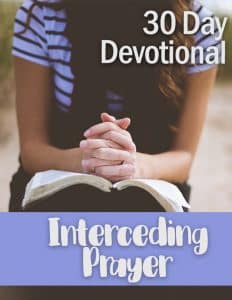 Introducing Private Label Rights to a 30 Day Themed Devotional Set About Interceding Prayer.
Use them on your blog, in an email sequence or offer the entire set as a download.
With full rights to edit as you wish, you can be as creative as you like!
Are you unfamiliar with PLR? Learn more here.
Devotions Are A Minimum of 225 Words Each
8,516 Total Word Count (Editable Word Document)
Daily Checklist with that day's Bible verse so you can check off each day (Editable Word Document)
Social Friendly Title Images Provided (JPG & Editable PSD Files)
Example Devotional From This Set:
Carry On, Prayer Warrior

"Then he continued, "Do not be afraid, Daniel. Since the first day that you set your mind to gain understanding and to humble yourself before your God, your words were heard, and I have come in response to them." – Daniel 10:12, NIV  

Daniel was a prayer warrior. He prayed daily, seeking God constantly. That fact alone is remarkable. But when you consider the time he lived in, it's downright amazing. He was a captive from Israel who had been taken to Babylon.  

He was known to the king, who seeing Daniel's wisdom, promoted the young man. As a result, Daniel developed powerful enemies who tried to destroy him.

Once after Daniel had been praying over a coming war, an angel appeared. The angel told David that from the first moment of prayer, God had heard his requests. These prayers were immediately answered. 

But Daniel did not see those answers for many days. Then one day, an angel arrives to explain that he had been traveling to give a reply from the Lord but was unable to come due to events happening in the spiritual realm. 

Daniel's story illustrates that we may not always see immediate answers to our prayers. But that doesn't mean that God's not listening. Not only does God hear your prayers, He will also be faithful to answer them! 

God, when I'm praying for others and I get discouraged, help me to remember the story of Daniel. I want to stand strong in my faith, even when it feels like nothing's happening. Thank You for always listening! In Jesus' name, Amen.  
The Devotional Titles:
1. God: The Righteous Judge
2. The Golden Calf
3. Real Encounters
4. Carry On, Prayer Warrior
5. Sifted
6. In the Wilderness
7. The High Priest
8. When Friends Betray You…
9. Hearts Revealed
10. Asking for Wisdom
11. The Blessing of Supportive Friends
12. Pray for Your Leaders
13. Praying for Prisoners
14. Ruler of Hearts
15. Friends Who Pray
16. The Persistent Widow
17. When There Are No Words…
18. Your Prayers Matter
19. Speak Boldly
20. God's Provision
21. Stephen: The Forgiving Saint
22. Spiritual Battles
23. Standing in the Gap
24. Fresh Wind, Fresh Fire
25. Confession Time
26. Praying for Your Country
27. Peace in the Middle
28. Praying for Those who Doubt
29. The Advocate
30. Prayers for Healing
These devotions are a wonderful addition to your faith based content plans.  Use them to encourage others and spread God's Love, Grace & Mercy far and wide!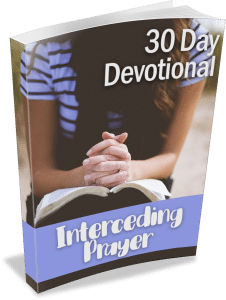 Pay $14.97 Now