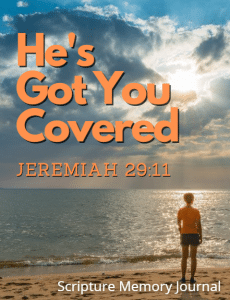 Introducing a 7 Day Scripture Memory Journal featuring Jeremiah 29:11.
If you minister to Believers you know how important it is to commit more of God's Word to memory.
Perfectly Prepared For Ministry Outreach!
Whether you want to use this journal to serve the people you already know – or share it for ministry outreach, we're thrilled to know we're saving you time and supporting your mission to love on others.
With full rights to edit as you wish, you can be as creative as you like!
Are you unfamiliar with done-for-you content? Learn more here.
This is a Canva Template Set designed to help your community memorize a beloved verse of God's Word in one week.
Excerpt:
We only know what we know. But our God knows everything. Every detail of our lives is planned out by Him. He sees the future and the right now at the same time.

There is a verse in the Bibles that talks about the plans that God has for us. It tells in detail the plan God has for you.

Jeremiah 29:11 says: "For I know the plans I have for you,' declares the Lord, "plans to prosper you and not to harm you, plans to give you hope and a future."
Note all content is provided within the Canva Template. We don't provide other versions of the text. Having it all in Canva makes it sooo easy for you to customize for your people!  Change fonts, use different images, add your own words and calls to action.
The package includes:
500+ word introduction to the verse.
7 Journal Pages providing space to write out the verse & journal reflections.
1 Beautiful Desktop Background featuring the verse. (Keep it front of mind!)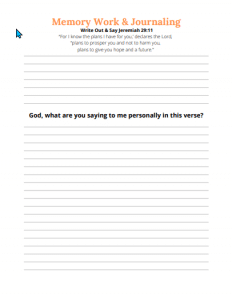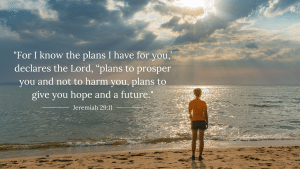 With full rights to edit as you wish, you can be as creative as you like!
Only $10!