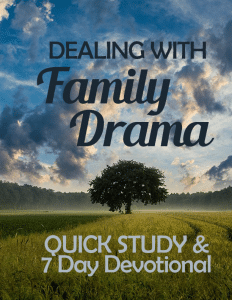 Introducing Private Label Rights to a Report Dealing With Family Drama.
Use this content on your blog, in an email sequence or offer the Report as a download gift for new subscribers.
With full rights to edit as you wish, you can be as creative as you like!
Are you unfamiliar with PLR? Learn more here.
2,573 Total Word Count – Report (Editable Word Document)
2,104 Total Word Count – 7-Day Devotional Journal (Editable Word Document)
686 Total Word Count – Checklist: How to Love Your Family without Getting Pulled Into the Drama (21 Tips & Ideas) (Editable Word Document)
eCover Images Provided (JPG & Editable PSD Files)
Example Excerpt:
It doesn't matter whether they're rich or poor; conservative or liberal; spiritual or agnostic; family has the potential to drive us crazy! Most of the time, it's not that you don't care about the people that God gave to you—it's that you just don't understand how to love them.
To begin healing rifts and start fresh in your relationships, it helps to understand where your family drama stems from. Here are a few reasons that families become fractured…
One of the most common reasons for family drama is differing opinions. King Saul and Jonathon had radically different views of David. Saul was the current king of Israel but God had rejected him and chosen to anoint a new king, a young shepherd boy.
David was that boy. While Saul plotted to kill the future king, Prince Jonathon became his friend, loving David as he loved his own soul (1 Samuel 18:1).
Not only did Jonathon save David's life multiple times, he also gave his own garments to his friend as in verse 4:
"Jonathan took off the robe he was wearing and gave it to David, along with his tunic, and even his sword, his bow and his belt." (1 Samuel 18:4)
This act symbolized Jonathon's acceptance of God's will in his life. He didn't try to fight for his legacy. Instead, he trusted God even though the future wasn't going to look like what he'd imagined as a boy.
Jonathon's story is an excellent example of family drama. Just like him, you're not called to agree with your family on every issue. You can choose to quietly do the right thing and trust that God sees your heart.
Another reason your family might be experiencing drama is a lack of grace toward one another. 
This mini report is a wonderful addition to your faith based content plans.  Use them to encourage others and spread God's Love, Grace & Mercy far and wide!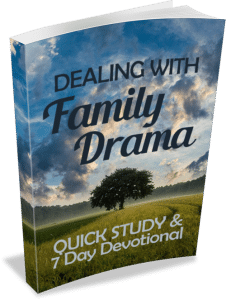 Only $17.97!