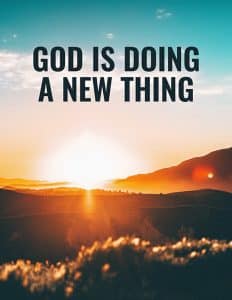 Introducing Private Label Rights to a Report God is Doing a New Thing.
Use this content on your blog, in an email sequence or offer the Report as a download gift for new subscribers.
With full rights to edit as you wish, you can be as creative as you like!
Are you unfamiliar with PLR? Learn more here.
2,411 Total Word Count – Report (Editable Word Document)
2,022 Total Word Count – 7-Day Devotional Journal (Editable Word Document)
721 Total Word Count – 21 Tips & Ideas Checklist (Editable Word Document)
eCover Images Provided (JPG & Editable PSD Files)
Example Excerpt:
The Silent Years
The nation of Israel had been enslaved for four hundred years. Four hundred years of crying out to God as generation after generation hoped their children and grandchildren would one day know the sweet blessing of freedom.
Some scholars refer to this period in Israel's history as "The Silent Years" because from all appearances, God was silent during this time. Have you endured "the silent years" in your own life?
You prayed for your alcoholic husband. You searched and searched for your runaway child. You begged God to heal your suffering parent. You did everything you could to keep your business from going under. You asked for healing from the trauma that haunts you.
In this place, it's easy to believe the lies of the enemy—that you are forgotten and abandoned you. That your God has forsaken you and will no longer listen to your anguished prayers.
Oh, precious one, God has heard your cries just as He heard the cries of the Israelites.
The Lord said, "I have indeed seen the misery of my people in Egypt. I have heard them crying out because of their slave drivers, and I am concerned about their suffering. So, I have come down to rescue them from the hand of the Egyptians and to bring them up out of that land into a good and spacious land…" (Exodus 3:7-8)
This mini report is a wonderful addition to your faith based content plans.  Use them to encourage others and spread God's Love, Grace & Mercy far and wide!
Only $17.97!