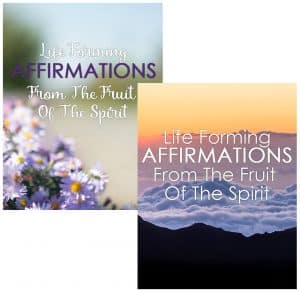 Introducing Private Label Rights to this Fruit of the Spirit Affirmation Study with self-reflections questions to help you dive deeper.
This study focuses on personal affirmations pulled from scripture – there's nothing better to lean in on if you want to live a more positive life.
Use this is a new mailing list subscriber gift or break it up into individual emails to be sent out in a series.  You're only limited by your creativity = and we believe God will give you plenty of that!
Are you unfamiliar with PLR? Learn more here.
3,980 Total Word Count (Editable Word Document)
Social Friendly Title Images & eCovers Provided (JPG & Editable PSD Files) in TWO different colors (lavender or blue)
Yep, we've designed the eCovers and graphics twice. Once with a feminine feel and another more masculine.  Choose the flavor that suits your community best.
Example From This Set:
I Choose Peace

The world is uncertain. Jobs are not secure. Marriages crumble. Neighborhoods aren't safe. We may be tempted to want to crawl under a rock. 

An artist painted a picture of raging ocean waves crashing on a craggy and rocky coastline. The ocean spray flew into the sky. The waves churned, and storm clouds filled the sky. But, as you look closer at the painting you see something. Where two rocks leaned together forming a crevice there was a white figure. It was a sleeping seabird, nestled in its nest, safe from the storm because of the shelter of the rock. The little bird was at peace although a storm raged around her.

Here are affirmations and verses about peace to help you as you learn about the real peace the Spirit offers to us and through us. 

Heavenly Peace

I choose to dwell on the lasting peace the Spirit gives me. God's heavenly peace encompasses every aspect of my life. With His peace my heart is calm and I do not fear.

"Peace I leave with you; my peace I give you. I do not give to you as the world gives. Do not let your hearts be troubled and do not be afraid." John 14:27, NIV

Purposeful Peace

I choose to plant a seed of peace. I may not see an immediate harvest of peace. By placing my peace in the Master Farmer, a seed is planted and he will bring a harvest of peace into my life. 

"Peacemakers who sow in peace reap a harvest of righteousness." James 3:18, NIV 

Legacy Peace 

The peace from Christ is His legacy to me. I choose to pass down this legacy of peace to others. 

"Let the peace of Christ rule in your hearts, since as members of one body you were called to peace. And be thankful." Colossians 3:15, NIV

Strong Peace 

When the adversaries come against me, I will depend on the strength of the Lord. When I depend on heavenly strength, then I have a blessed peace even in the middle of life's storms.  

"The LORD gives strength to his people; the LORD blesses his people with peace." Psalm 29:11, NIV 

Look up these other scriptures about peace:
Romans 15:13
Philippians 4:6-7  

My Peace Affirmation: 

Today, I will let the Spirit's peace
rule in my heart. I know His peace is
larger than any problem I face. 

Self-Reflections Questions: 
What does a peace filled day look like to me?
What is a situation in my life where I need to let peace reign?
How can I grow in peace today?
Who do I know who exemplifies a tranquil and peaceful life?
Here is an overview of the study guide: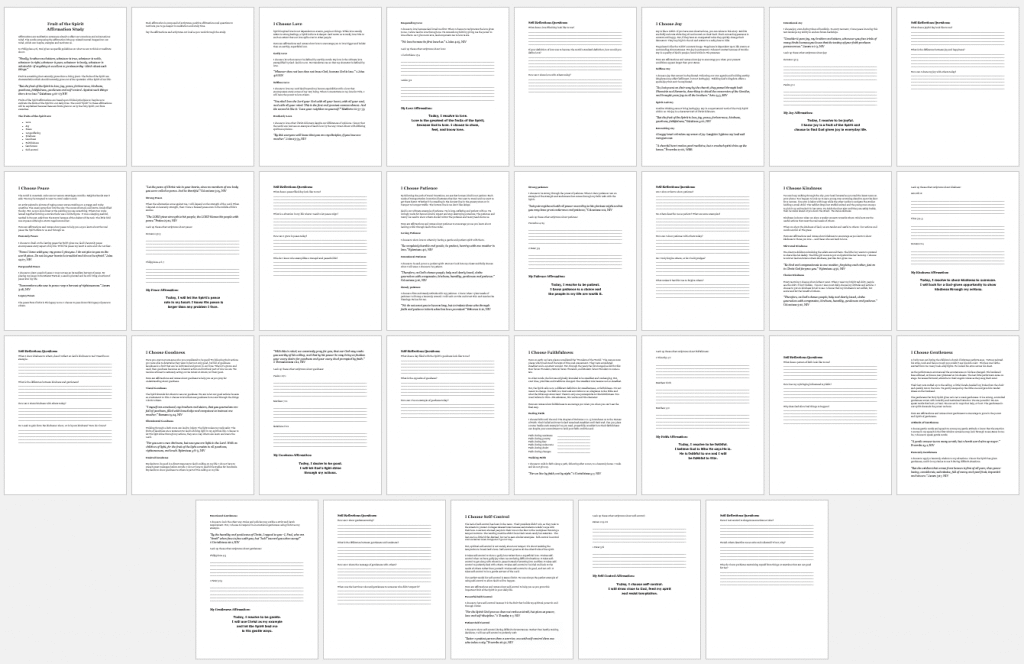 The fruits of the Spirit are listed below. This is what each section of the study is based upon. 
Love
Joy
Peace
Longsuffering
Kindness
Goodness
Faithfulness
Gentleness
Self-control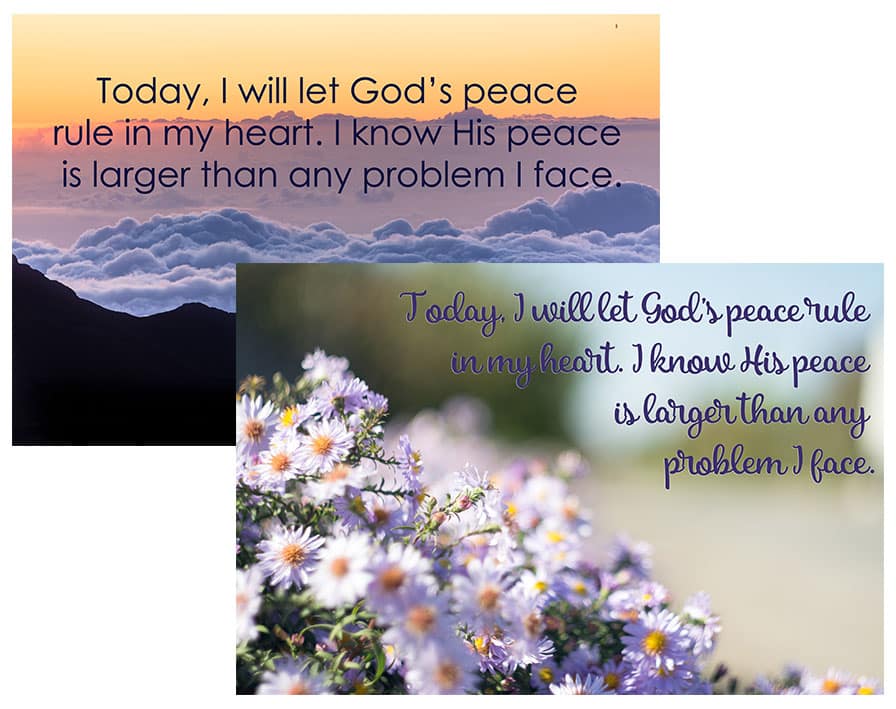 This Fruit of the Spirit Affirmation Study is a wonderful addition to your faith based content plans. Use it to encourage others and spread God's Love, Grace & Mercy far and wide!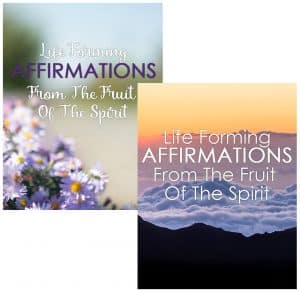 Pay $14.97 Now