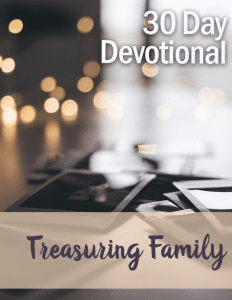 Introducing Private Label Rights to a 30 Day Themed Devotional Set About Treasuring Family.
Use them on your blog, in an email sequence or offer the entire set as a download.
With full rights to edit as you wish, you can be as creative as you like!
Are you unfamiliar with PLR? Learn more here.
Devotions Are A Minimum of 225 Words Each
8,145 Total Word Count (Editable Word Document)
Daily Checklist with that day's Bible verse so you can check off each day (Editable Word Document)
Social Friendly Title Images Provided (JPG & Editable PSD Files)
Example Devotional From This Set:
When Family Traditions Hurt

"The Spirit himself testifies with our spirit that we are God's children." – Romans 8:16, NIV  

Kathy was an illegitimate child. She was the product of an affair that her mother had with a married man. Because Kathy was born in the early 40s to an unwed mother, her birth was considered shameful. She was sent to live with her mother's cousin's family. 

Although she was raised with kids her own age, Kathy was always treated differently. On her birthdays, there was no celebration. When holidays came, there were no gifts for the little girl. She would stand on the front porch and peer into the house, watching as the other children enjoyed Christmas presents and delicious treats.

Years later, Kathy started a toy drive. She spent every holiday season gathering gifts for foster children. Her heart ached to pour out love to kids who had been abused, neglected, and bullied.

Like Kathy discovered, family traditions can be painful. They can leave us feeling like we're not accepted or that we're unloved. But if you have accepted Jesus into your life, you are a child of God. You're part of a family where everyone is seen, loved, and wanted. 

God, please comfort me when my earthly family rejects and hurts me. Remind me again that I'm part of Your family and that You love me deeply, passionately, and completely. In Jesus' name, Amen.  
The Devotional Titles:
Your Heavenly Father Loves You
Avoiding Footholds
When Family Traditions Hurt
Influencing the Next Generation
Legacy of Hope
The Family of Christ
Letting Go of Guilt
The Bond of Siblings
The Wall of Love
Mourning the Loss of a Parent
When You've Sinned…
Two Nations
Don't Give Up
When No One Understands
The Peacemaker
Family Connection
New Branches
A Caring Community
Family Rules
Scrapbook of Love
Faith, Hope and Love
The Monument
Expectations
During the Detours
Answered Prayers
When the Pain Won't End…
Into The Deep End
A Good Work
Superheroes & the Savior
The Joy of the Lord
These devotions are a wonderful addition to your faith based content plans.  Use them to encourage others and spread God's Love, Grace & Mercy far and wide!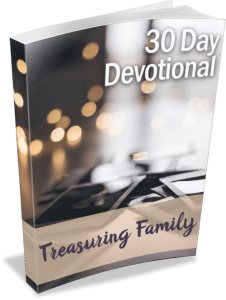 Pay $14.97 Now